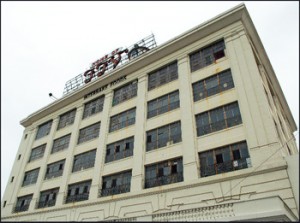 One of the most headline-grabbing developers of 2011 wasn't really even a developer until it started buying parcels and historic buildings across Richmond.
Midlothian-based Rebkee Company revamped its business model, branching out from developing locations for drugstore chain CVS to placing the winning bid for the iconic Interbake Cookie factory at the edge of the Fan District. In 2011, the company also bought the shuttered Wyeth plant visible from Interstate 95. And it's developing a historic tax credit project in Lynchburg.
BizSense caught up with Rebkee principal Robert Hargett, who once worked in commercial lending for Fleet National Bank, to see what's going on at the company and what it's thinking for the future. 
Richmond BizSense: Rebkee has changed somewhat in the past few years. How do you describe your company when people ask what you do?
Robert Hargett: When we started out, we were just retail development. We started in my partner Kevin McPhadden's basement. We didn't have any money, but we sold it, made another deal and it grew from there.
But development for the past few years has been largely shut down, but so what's been driving our bottom line is our construction management service.
RBS: Construction management?
RH: Construction management guides a development through the entire process, from getting the entitlements — whether that's rezoning or just permits — to the bid process, overseeing general contractors, etc. Then once the project is built, the project managers oversee leasing it up.
RBS: So that's been getting you though the downturn?
RH: Yes, we've been blessed because we really haven't had to lay anyone off so we've been able to keep our team in place. Around the beginning of the great recession, CVS began moving into the Hampton Roads market.
So when other firms had to let people go, we were working on 30 new CVS projects. Over the past few years, that's been about 75 percent of our business, and it's allowed us to keep the team together and has put us in a great position to start doing some other kinds of deals coming out of the recession.
A lot of people can do a deal or two, but who can go and do 30? What happened, and it's not their fault, is that when the recession hit they had to lay people off.
RBS: That would include the Interbake building, for example. That's kind of new territory for you. What drove that purchase?
RH: We can't be retail guys. There just isn't enough going on. I'm a finance guy, and I started looking at the numbers. I became enamored with the building and the rent possibilities. I also got excited about the team we put together.
I'm also doing another historic tax credit deal at an old warehouse at in Lynchburg. That's our first out there, and it felt like a good market to get into.
RBS: From your perspective, how is the Richmond market looking?
RH: I think it's stabilized. Retail has stabilized, and we're making a little progress. I've stopped getting calls from mom-and-pop operations asking for rent reductions, and that's a big deal.
The apartment market feels a little bit frothy to me. I think bankers and developers should both make sure compelling reason to do every project.
But the banks have shown that things have stabilized as well. There not out there saying "Let's make loans, let's make loans," but they certainly like to hear a good story.