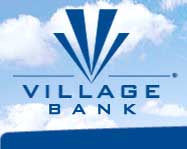 A fifth local bank is now under written agreement with its federal regulator.
Midlothian-based Village Bank said last week that it entered into a consent order with the FDIC aimed at requiring the bank to take steps to improve its finances.
Village has struggled over the past couple of years to deal with tens of millions of dollars worth of bad loans and foreclosed properties. It has been in the red and seen its capital diminished after taking losses on the bad loans and setting aside precious cash reserves to deal with other uncertain borrowers.
Village is far from alone. Four local banks are under written agreement with the Federal Reserve. The agreements are also enforced by the Virginia Bureau of Financial Institutions, the state's bank regulator, which is part of the State Corporation Commission.
The consent order with the FDIC lays out steps Village must take to get on more stable financial footing.
The agreement includes a plan to shore up its capital reserves by setting strict thresholds. It must submit a plan that shows how it will reach and maintain those capital levels and a contingency plan.
Village can't pay any dividend to shareholders while under the agreement, which also sets limits on the bank's ability to grow its assets.
Village made big dollar loans on big local land developments that fueled the growth of Chesterfield County and other areas around Richmond. Its mortgage division also grew rapidly during the boom.
The bank has been caught up in the high-profile bankruptcies of such local developers as Hank Wilton and DuVal Development. It also is still owed money from the Tetra Companies, a defunct Virginia Beach developer that left several local banks hanging.
Village lost $4.3 million in 2011, according to reports filed with the FDIC.
It is trying to dig itself out of $56.8 million in past due and non-accrual loans as of the end of 2011. That level is up from $31 million from the end of 2010.
Village chief executive Tom Winfree could not be reached for comment by press time.
Winfree said in a prepared statement that the continued depressed economy has had a detrimental effect on the bank's loan portfolio and borrowers' ability to repay their loans.
"This in turn has heightened regulatory concern over our bank's ability to recover all amounts owed to it and the effect on our bank's capital," Winfree said. "We believe that the terms of the consent order are prudent in this economic environment and we have and will devote substantial resources to complying with it."
The main focus of the order is forcing the bank to more aggressively tackle its problem loans. That includes hiring employees with experience in dealing with such assets and then deploying a plan to manage and dispose of them.
The bank already has a section of its website devoted to promoting its portfolio of foreclosed real estate. http://www.villagebank.com/real_estate/realestate.html
Village must also continue to limit its exposure to land development loans, a thorn in the side of most struggling banks. Regulators are forcing many banks to stay away from those sorts of loans.
Written agreements and consent orders are not a death knell.
Village completes the handful of local banks under similar agreements, joining Essex Bank, Central Virginia Bank, EVB and Bank of Virginia. The former Consolidated Bank & Trust had also been under agreement prior to being merged into West Virginia-based Premier Bank.
The former Virginia Business Bank is the only one local bank that went into a written agreement since the recession that didn't make it out alive. It was shut down in August by regulators and is the only local bank to fail during the recession.
Village will continue to take deposits and make new loans while under the consent order.
And customers' deposits will continue to be federally insured by the FDIC.
"I want our customers to know that their money is safe," Winfree said in his statement. "Our compliance with the consent order will not compromise our customer service. In the long run, we believe we will be a stronger bank."
The bank as part of the agreement must hire a consultant to help it determine whether its current management has the skills necessary to work through its problems.
It also can't accept any new brokered deposits, a method of cheaply buying into out-of-town deposits that many banks used to beef up their deposits levels during the real estate boom.
Village's holding company, Village Bank & Trust Financial, has yet to file its fourth quarter and year-end financials.
The bank has 14 branches and slightly less than $600 million in assets.