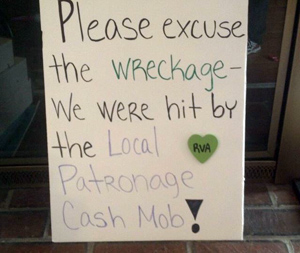 The "shop local" movement has a new mobster.
By starting Richmond's first cash mob, Chesterfield day-care owner Rainey Niklawski has steered thousands of dollars in sales to a local produce market. And she wants to maintain the momentum, mobbing a different business every three months weeks through her group, RVA Local Patronage Mob.
"I think we've all fallen victim to the ease of going to Walmart and Target, because everything's there. But we've forgotten that Richmond runs on local business," Niklawski said. "We need to get back to putting money out locally."
Through Facebook, Niklawski creates an event and targets a business every third Saturday. Participants can go at any time on that day. It's like a flash mob, only without the synchronized dancing. (Not that you are prohibited from dancing.)
Once a business is mobbed, it gets to pick the next business for the group to bombard.
Farm to Family, a natural produce and grocery market on Mechanicsville Turnpike that also has a mobile store in a bus, was the first to be hit. About 230 people came in one day.
And the crowd came just in the nick of time for owners Mark and Suzy Lilly.
The week before the mob showed up, the transmission on one of the delivery trucks gave out, setting the business back $2,000. But then the mob showed up.
"We did a week's worth of business in one day," Suzy Lilly said. "It was a huge boost to our business, it was a week-long advertisement for us. … I think I cried like four times."
Lilly said most people were buying milk, eggs and sausage and spending between $10 and $50. Some customers spent more than $100.
The market has been in business for two and a half years, and Lilly said it's still a struggle to keep their heads above water.
"It's almost impossible for small businesses to get funding from traditional banks," she said. "We had a better January then I expected, but we're still going week to week."
Since getting mobbed, Lilly said the market has seen many repeat customers.
Niklawski said she got the idea to start the group in January.
"I read an article about people that gathered and went to a mom-and-pop hardware store in Wisconsin," she said. "I thought, 'I should get something started like that in Richmond and do it all day long.'"
Niklawski said the group helps get the masses revved up to spend money locally and draws new customers to businesses.
"It's a good way for people to realize what kind of business is out there," she said. "It opens doors for these businesses."
Niklawski, 26, runs a day care out of her Brandermill home.
Once demand picks up, Nikalwsi said she'll start mobbing businesses all over town.
"I'm still trying to get started," she said. "I don't want to spread my resources too thin."
The next mob will hit Bombolini Pasta on West Main Street on Feb. 25.