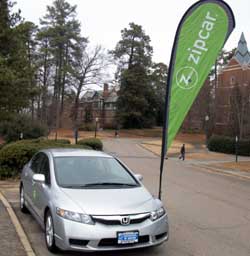 Car sharing is burning rubber on college campuses across Richmond.
"It's taken off this semester," said Natalia Green, director of parking services at the University of Richmond. "It started picking up in February."
Green said the school has 210 students signed up for Zipcar, up 187 from last year. About 26 students applied in January.
The two Zipcars, a Honda Civic and a Toyota Prius, were reserved for 62 hours so far this month.
Last month, the Zipcars were bringing in an average of $57 per day. Last January, it was less than $2 per day. Total revenue for 2011 was just shy of $14,500.
Green said UR pushed the car-sharing service through flyers and a newsletter, Spider Bytes.
"We've done a lot of marketing for the Zipcars," she said. "We did a big push for the cars at freshman orientation."
Students sign up online for a $25 fee and either rent the Zipcars for $8 an hour or $60 for the day. Green said most students are checking out the cars for a few hours, but they do get students who take it for longer excursions.
"Last spring break, one car was gone the whole week," she said.
More students are also catching rides with their peers then before. Since July, 135 students signed up for the ride-sharing service Zimride. UR has 477 members of the service.
UR told BizSense last January that the school had about 1,000 undergraduate students out of 3,000 without cars. This year, 2,248 undergraduate students have cars, which leaves about 800 without.
Virginia Commonwealth University introduced Zipcar in 2010. Miriam Maddux of VCU's Parking and Transportation department, said the cars have been on a roll.
In 2011, 219 students signed up for Zipcar, and now the school has 359 members. VCU's fleet consists of a Ford Focus, Scion XB, a Toyota Prius and a Honda Insight.
Maddux said the cars were reserved for about 724 hours each month last year.
VCU has almost 3,000 Zimride members.
Even with more than 7,000 students applying for parking permits last year, Maddux said the school is still pushing the car-sharing services hard.
"We strongly encourage students to use alternative transportation, such as Zipcar and Zimride, for trips off-campus," she said.