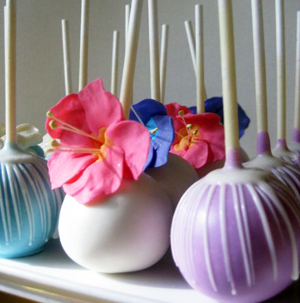 Move over, cupcakes: A new dessert has popped up in Richmond.
A former Circuit City employee is making a name for herself with her startup, Candy Valley Cake Company, which puts a cake ball on a stick and calls it a cake pop.
The pops are small, hand-rolled balls of cake with a hard candy coating on a lollipop stick. It takes a bite or two to devour one.
"From October to December, we sold 30,000 cake pops," said Keya Wingfield, who started the business along with her husband, Dave, two years ago.
Launched from Wingfield's West End home, the company now makes 300 to 400 pops a week out of a 1,200-square-foot space on Lafayette Street.
Candy Valley sells 14 flavors of pops, including the RVA (red velvet) and King of Pops (chocolate cake with pretzels and potato chips). Wingfield also designs custom pops for events such as March Madness and Mother's Day. The pops go for $2.99 apiece or $30 for a dozen.
Because Wingfield creates all of the designs by hand, she said the more intricate pops can go for up to $16 a pop.
"Sometimes it can take 25 minutes for one pop," she said.
While his wife creates the pops, Dave Wingfield, who also works as a standup comedian, delivers the orders across town. He said that business is increasing faster than Keya can crank out the pops.
He wouldn't share revenue numbers but said the business has been growing 10 to 15 percent a month.
The Wingfields are both former Circuit City corporate trainers. They met at one of the now defunct company's call centers in India, where baking is no easy task.
"In India, there are no traditional ovens. It's either a stove top or microwave," Keya Wingfield said.
Wingfield, a native of India, made the move to Richmond six years ago to marry Dave. That's when she decided to pursue a culinary career.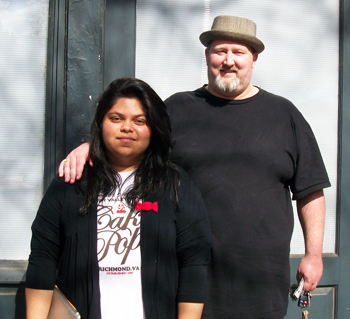 She enrolled in a yearlong pastry arts course at J. Sergeant Reynolds in 2009 and worked as a cake decorator for Williams Bakery in Mechanicsville and local cupcake shops. But Wingfield wanted to take her decorating skills to the next level.
"I'm a huge fan of art and cooking, and I thought I'd bring the two together," said Wingfield, 25.
With $100 in her pocket, a bag of lollipop sticks and some chocolate, she launched Candy Valley in March of 2010.
"I'd sleep for two hours and then get right back to it," she said. "I tried 40 different versions of cake pops, trying to get the texture right."
The Wingfields began testing their new dessert at local farmers markets two years ago.
"We got a lot of exposure, and the corporate calls started coming from that," Keya Wingfield said.
The business eventually grew too big for her kitchen. She rented space in August from the Mixing Bowl, a bakery in the West End. In December 2010, Candy Valley moved into its current space at 710 Lafayette St.
About 70 percent of the pops are sold to local businesses for corporate functions.
The biggest order was for 1,200 pops for a local appraisal company.
The other 30 percent of the company's revenue comes from weddings and other private events. Wingfield said the company makes pops for about one wedding a month.
"It has been mainly through word of mouth," said Dave, 36. "We haven't had to pay one cent for advertising."
Candy Valley also sells the pops at Sticky Rice and Ellwood Thompson's.
In the next few months, the two plan to add a retail component to start selling the pops out of their space.