Richmond-based Ledbury is bursting at the seams.
The high-end men's shirt maker has knocked down the wall next to its South 14th Street office to expand its showroom as it adds new garments, accessories and employees.
"Sales have continued to grow three times from where we were last year," co-founder Paul Watson said. "We're ahead of schedule from where we thought we'd be."
Ledbury this month took over the 1,600-square-foot office next door, which formerly housed Best Life Photography. The photography shop expanded to a larger space in the back of the building.
The extra space will give Ledbury a total of 4,100 square feet.
"During the holiday rush, we realized we needed more breathing space," Watson said. "Customers will have the freedom of walking in, and we have the luxury of having a few extra folks on hand so they won't have to schedule appointments."
Watson, 32, runs the business with Paul Trible, 31. Until its first expansion over the summer, Ledbury housed its wares in a showroom on East Cary Street in Shockoe Slip. In August, they leased the 2,500-square-foot space at 109 S. 14th St.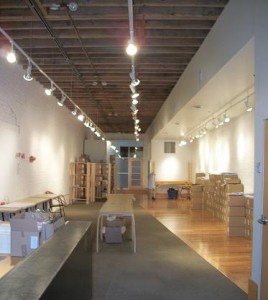 The move from its Slip location seems to be paying off for the company, which now has about 4,500 clients, up from 3,000 in 2011.
"The last location was on the second floor, and you had to take an elevator up to see us. It was not the most inviting retail environment," Watson said. "[14th Street] is much more accessible, and we see more foot traffic. "
Ledbury sells about 30 shirt styles that range from $115 to $165. Watson said that about 96 percent of the business stems from online sales but that the retail segment is growing.
To keep locals coming back, the business is re-launching its small-batch, limited-run shirt concept, something it tried last fall.
"We sold through everything we put out in short runs," Watson said.
The business introduced a new shirt each week in batches of about 50 to 90. Watson said he would sell out in a day and half. This year, Ledbury will introduce a few new shirts each month.
But new shirts aren't the only trick the founders have up their sleeves.
In December, Ledbury introduced the Commonwealth Collection, a line of belts made by the Wiley Belts, based in Albemarle County. The belts cost $165, and Watson said they can't order them fast enough.
"We keep selling out of them," he said. "We probably sell 100 a month."
The company also plans to unveil a line of cufflinks and add a line of ties and pocket squares this summer.
To handle all of the extra shirts and accessories flying in and out, Ledbury has brought on two new employees, bringing its staff to a total of seven.