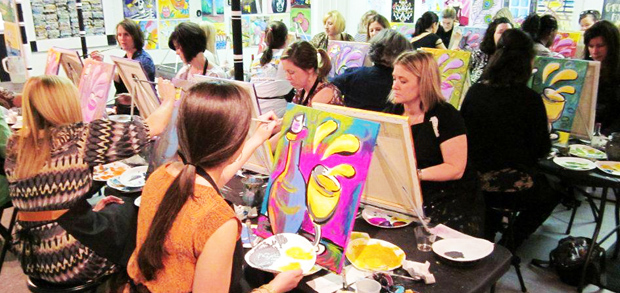 A Richmond entrepreneur is going to test the theory that artists do their best work after a few drinks.
Layne Summerfield is opening Wine and Design this month on West Broad Street for people to who want to channel their creative energy with a paintbrush in one hand and a glass of vino in the other.
"Painting has been my release. It gets you in the best mood," Summerfield said. "You get to leave with this awesome piece of artwork, and plus wine makes everything more fun."
A two-hour class costs $35, which includes a canvas, paint and a few brushes. Summerfield will have a retail shop for people to purchase wine or beer, or attendees can bring their own favorite bottle of Merlot or Chardonnay.
"It's similar to All Fired Up, but with wine," Summerfield said, referring to the local paint-your-own ceramics studio for kids.
Summerfield hired three local artists to teach the classes. The artist paints with the class, giving instruction along the way. The studio also has samples of classic works of art around the classroom for customers to try to emulate.
"You don't have to have any experience," she said. "The artist paints a picture in front of the class [and] walks around the class to help."
Summerfield is also planning to have several events each month, such as date night and paint-your-pet night. (You bring a picture, not your pooch.)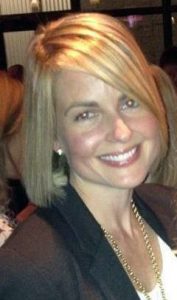 Wine and Design is part of a bigger franchise. The business uncorked in 2010 in Raleigh and has 10 other locations in the Carolinas. Summerfield's is the first Virginia location.
A Virginia law influenced Summerfield's business plan: She plans to bring in a chef to serve food during the classes.
"The laws are different here than they are in North Carolina," she said. "They don't have to sell food with their beer and wine."
Wine and Design will offer panini, salad and pizza for an extra $8 to $15.
Although she won't have her ABC license for a few more weeks, Summerfield said she's already overwhelmed with people eager to eat, drink and paint.
"I've had 20 to 30 people calling to sign up," she said. "I've had to start turning people away."
For the past 10 years, Summerfield, 32, worked in pharmaceutical sales. She was transferred to Richmond three years ago. Originally from Raleigh, Summerfield got a taste of the franchise before she left, and she wanted a second round.
"I didn't have some things that I missed from home, and this was one of them," she said. "I've always wanted to own my own business."
She leased a 2,400-square-foot space at 2707 W. Broad St. that used to house Studio X. The studio has four rooms, two of which will be for private parties, with one main art studio and the retail shop. Summerfield said she plans to be up and running in March or early April.