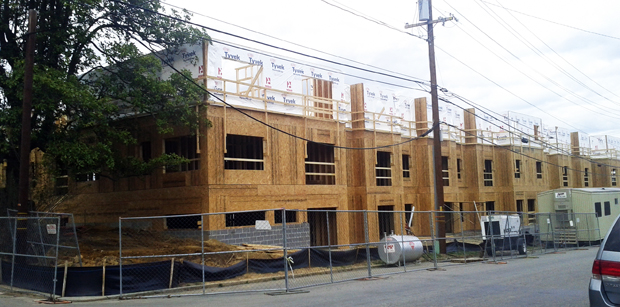 Manchester is on fire.
Dan Gecker and Robin Miller of Urban Development Associates are building 44 apartments at Ninth and Perry streets in the Manchester section of Richmond.
Miller said the 909 Perry Street Apartments, as the project will be called, is going to be 41,000 square feet and cost $5.2 million to build.
"We're rebuilding Manchester, lot by lot and block by block," Miller said.
Virginia Housing Development Authority is the lender.
The building includes a clubhouse, onsite storage, parking and private patios, Miller said.
Miller said the apartments should be open by mid-summer.
Urban Development Associates has been busy lately, ramping up construction. It's developed almost 100 condominiums, the bulk of which are at the Old Manchester Lofts (where Miller lives). Once 909 Perry is completed, UDA will have developed 80 apartments.
Miller's firm has also bought and renovated 30 homes.
Manchester has seen a flurry of activity this year. BizSense broke the news Monday that one of largest parcels of land in the area was under contract. The Reynolds South packaging plant development is being spearheaded by Tom Wilkinson, who formed South Plant Development Group LLC for the project.
And Tom Papa of Fountainhead Properties told BizSense in February that his firm was rehabbing two city blocks owned by Miller Manufacturing for 210 new apartments. City records also show that a special use permit was approved for a 32-apartment building called City View Place at 10th and Bainbridge streets. It is under construction now.

View Larger Map