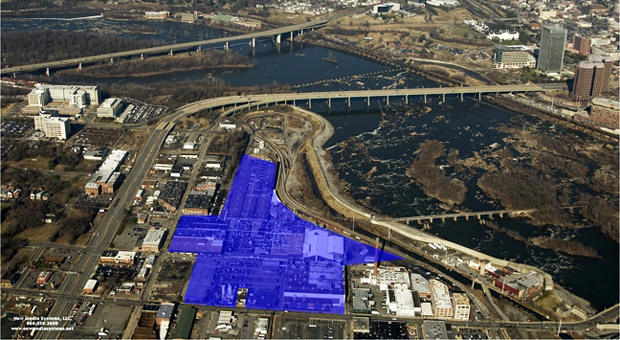 A local developer has the sprawling Reynolds South packaging plant in the Manchester section of Richmond under contract.
Tom Wilkinson of Franklin Development Group has a contract to buy the 18-acre parcel — which is adjacent to Legend's Brewery and also has frontage on Hull Street — and has been talking with other real estate insiders about deals that could bring apartments, office space and retail to the south side of the James River.
The former aluminum foil plant had been closed for several years.
Several sources said brokerage firm CBRE was shopping the property around for $9 million.
None of the parties directly involved with the deal would comment, citing confidentiality agreements.
When asked in an email about the Reynolds plant, Wilkinson said he was "prohibited from speaking about the project" but added that a mixed-use development in the area "makes a lot of sense."
Those with knowledge of the deal, who all asked not to be identified because of varied connections and interests in the development, said Wilkinson was trying to cobble together a package of historic tax credit apartment conversions and new office and retail construction.
Other local developers have looked at the site, including Fountainhead Properties, who, in conjunction with WVS, closed two weeks ago on the Reynolds North plant and plan to bring apartments and retail to that project. (You can catch up with the RBS story here.)
"We looked at it, but because of our involvement in the North plant, we couldn't give it the kind of attention it required," said Fountainhead's Tom Papa. "We certainly want it to be successful and wish the current developers good luck."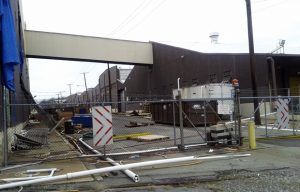 Scott Boyers, a broker with CBRE representing the parcel's owner, said the deal was moving along but would not comment further.
But changes to the landscape at the plant are already underway in Manchester. The plant's owner (it was sold by Alcoa several years ago and has not been operating for a few years) is demolishing a large component of the plant: a building that stretches almost two city blocks along Sixth Street and across to the railroad tracks behind it.
A flyer circulated among businesses in the area announced that "The Reynolds plant has been dark for a couple years and it is time to make way for an exciting, bright future."
The flyer, which was drawn up to keep people from parking in the demo zone, said the demolition would work from the far end of the plant to the brick buildings along Porter Street, which are not being destroyed.
Lewis Brothers Inc. filed a permit for the demolition Jan. 18. It was approved Feb. 15 at a reported cost of $300,000. KBS has also started demolition work inside the brick buildings along Porter Street. Calls to the two companies were not returned by press time.
Manchester has seen a flurry of projects in the past decade, and the pace of new projects is speeding up, bringing in residents and businesses. In February, BizSense reported on a rehab that will bring 200 apartments.
And in August, RBS reported that Dominion Realty Partners was putting in a new 190-unit apartment project.
Developers and residents in Manchester have often complained that the neighborhood needs a grocery store – so that might be one type of tenant Wilkinson could look to score.