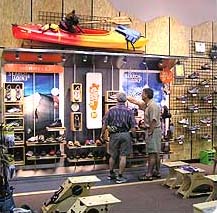 Charlottesville-based Blue Ridge Mountain Sports is closing its outlet store on West Broad Street at the end of the month.
Ryan Baxter, a manager for the retailer, said that the lease was up at the location and that the company decided not to renew.
The outlet store is having a special sale to liquidate the inventory.
"It's an opportunity to clear some of the products from the outlet and focus our efforts on our full retail location at West Short Pump," Baxter said. "We want to drive sales through that door."
The 40-year-old company has locations across the Mid-Atlantic and a flagship store in Charlottesville. Blue Ridge sells outdoor gear such as backpacks, sleeping bags and kayaks and such brands as Patagonia and North Face.
It has faced stiffer competition in Richmond since REI opened a 26,000-square-foot store at West Broad Village in 2009.
The North Face branded backpacks and jackets have also become more ubiquitous and are sold at department stores and at Dick's Sporting Goods.
To better compete for West Enders' business, Blue Ridge opened an 8,000-square-foot shop in Towne Center West in 2010 and turned its older West End store in the Lexington Commons shopping center near the corner of Broad and Gaskins into an outlet store.
Blue Ridge also has a location at Chesterfield Towne Center.
Baxter said the closing has nothing to do with the business's performance or competition from REI.
"It's silly to think that REI doesn't have an impact — there's always going to be competition," he said. "To directly compete with REI, we had to have good service."
Baxter said this will be the only Blue Ridge location closing. Between the outlet and Short Pump stores, Baxter said there are 12 employees, and most of the staff at the outlet will be retained at Short Pump.
"The plan isn't to lose anyone," he said. "We are working out something now with the two managers."

View Larger Map