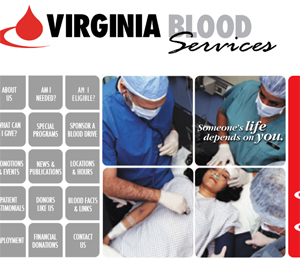 One of the biggest and longest-standing local hospital clients of Richmond's hometown blood supplier has severed their relationship.
HCA and its five local hospitals dumped Virginia Blood Services in favor of the American Red Cross, which supplies about half of all blood in the country and is Virginia Blood Services' main competition in Central Virginia.
The 38-year old Richmond nonprofit struck back. It plucked 13 new hospital clients from the Red Cross.
Virginia Blood Services said it doesn't know if HCA made its decision based solely on price.
HCA Virginia spokesman Mark Foust confirmed that the company is now buying from the American Red Cross but would not comment further.
Virginia Blood Services President and CEO Robert Carden said the blood industry is getting more cutthroat.
"Price is becoming more and the more the driver," Carden said. "Historically, it has been the service."
Mark Smith, a local businessman and member of the Virginia Blood Services board of directors, said in addition to caring for patients, publicly traded hospital companies such as HCA have to concentrate on profits to please shareholders.
"Look at what's going on with hospitals globally," Smith said. "Fewer and fewer hospitals are independent."
Blood suppliers such as Virginia Blood Services now deal increasingly with hospital supply chain managers, rather than blood transfusion officials, Smith said.
"The guys that buy the syringes and the gauzes buy the blood," Smith said. "It comes down to dollars per pint.
"It's economics. It's money. That's the game."
Though the Red Cross dwarfs it, Virginia Blood Services is not pint-sized.
It brought in $34.8 million in revenue in 2011. Almost all of that is from service fees it charges hospitals to help cover the costs of collecting, testing, storing and supplying the blood. And Virginia Blood Services has to pay its 280 employees.
Last year it conducted 2,700 blood drives and collected about 110,000 units of blood, which are measured in pints, and supplied 27 hospitals across the state, including VCU Health Systems/MCV Hospitals, UVA Health Systems, Bon Secours Richmond Hospitals and Carilion. All hospitals get the same pricing. The contracts are always three-year agreements.
"We don't sell blood," Carden said. "We charge service fees to recover our costs."
Virginia Blood Services had $32.3 million in expenses last year.
Federal laws require blood suppliers such as Virginia Blood Services to be licensed by the FDA as a pharmaceutical manufacturing company.
Losing HCA would have hurt financially had Virginia Blood Services not picked up new customers Carilion Clinic and Valley Health in the meantime.
"We are still disappointed about the loss of business and the growth we could have had," Carden said. "Even with the loss of HCA, this has allowed us to grow both financially and by the number of blood products that we provide."
The bigger bruise from losing HCA was emotional.
Virginia Blood Services was created in 1974 as the Richmond Metropolitan Blood Service by a group of Richmond doctors, including one from HCA. The hospital chain was a customer until last month.
"We don't like losing any hospital regardless of the reason," Carden said. "We are more disappointed because HCA is part of our history as a founding hospital."