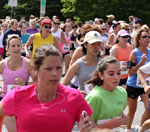 About 40,000 people will take over one of Richmond's most famous streets Saturday.
In its 13th year, the Monument Avenue 10K is bigger than ever.
And after 20 years in the business of putting on races and sporting events across Richmond, Sports Backers appears to have hit its stride.
The local nonprofit, which puts on about a dozen events, eclipsed the $5 million mark for annual revenue last year for the first time in its history. The organization has 20 employees, manages more than 6,000 volunteers every year and has no plans to slow down.
To gear up for the March 31 Ukrop's Monument Avenue 10K, BizSense caught up with Sports Backers Executive Director Jon Lugbill to talk about the race, the nonprofit's growth and why his organization might well be the Wawa of race organizers.
The following is an edited transcript.
Richmond BizSense: How big has the Monument Avenue 10K become?
Jon Lugbill: Last year we had over 41,000 participants. That made it the 19th largest running race in the world in 2011. We're going to be right near that number again this year. It's been constantly growing, and a lot of that has to do with it being run on a beautiful street, and the community has really adopted it.
RBS: Your revenue has grown to $5 million annually. What kind of growth are you seeing year to year?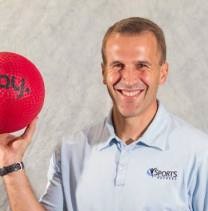 JL: We've been growing between $400,000 and $600,000 per year since 2006. In 2005 to 2006, our gross revenue was $2.5 million. During that period, we had set a goal of doubling our impact on the community. In doing that, we doubled our revenue.
RBS: How much of the revenue comes from the Monument 10K?
JL: About 87 percent of our revenue is from events. The Anthem Richmond Marathon and the Monument Avenue 10K are more than half of that total. They are very significant, and both of them required a significant investment up front. The marathon had seven years that lost money. [The other 13 percent of revenue comes from local government and philanthropy.]
RBS: How do you continue to persuade so many people to pay to run and pay to put their bodies through pain and physical exertion?
JL: We always say, "Why would someone pay us to run down Monument Avenue when they can do it any day of the week for free?" First, we're creating an experience with all the bands and spirit groups and people that come out. Second, physical activity is incredibly good for your health. Taking part in our events leads to a more active lifestyle and more healthy families, friends, neighbors, etc. There's no downside.
RBS: How competitive an industry is it with all these mud runs popping up and runs in Virginia Beach, Charlottesville and D.C.?
JL: It's getting more competitive. More and more races are being put on. Communities see it as tourism development, and they want to put money behind it. If people trust your brand, you can still shine amongst a lot of competition. There are lots of convenience stores, but you know what you are going to get when you go to Wawa.
RBS: What kind of pressure do you feel to continue to come up with new ideas for events, especially ideas that are different from what's already out there?
JL: We want to create more events. We think there's opportunity in cycling and within walking. We're going to work more with schools. We plan on one or two new events a year for the next five years.
RBS: Are there ever events that just aren't successful?
JL: If our new events haven't shown potential to be significant events after three to five years, we cut them. We had a 3-on-3 basketball tournament that we really liked and thought had a lot of potential. We never could get it bigger than 700 or 800 people, so we stopped doing it this year. We're willing to make tough decisions.
RBS: Luring corporate sponsorships also helps pay your bills. Are those a tough sell these days?
JL: Our sponsorship levels have done very well throughout the recession. Some of our individual giving and government funding has declined. But our total sponsorship dollars went up, because we added more product, and that product is selling.
RBS: Is there a point you might hit at which the Richmond market will be saturated with these types of events?
JL: We don't want to do an event on the weekend of NASCAR or on top of the Strikers soccer tournaments. We also don't want to be competing for hotel rooms to the point where there aren't hotel rooms for people. We do have some limitations. There are some times of the year where you go, "That would be great, but we just can't."
RBS: It seems like the organization has these events down to a science. Do you dream about taking Sports Backers to another region to replicate the formula?
JL: Richmond is the only place we want to be. We've had some of those discussions. In theory, our ability to organize events could be taken to other cities. We decided not to do that because we thought we'd lose focus. Often our events don't make money for five to seven years. It takes years to get them to the point where they pay for themselves, let alone spin off money.