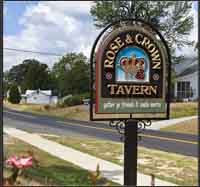 Pieces of a fledgling New Kent County development that has been in and out of bankruptcy are once again on the verge of foreclosure.
It's the second time that foreclosure notices have been issued for parts of New Kent Courthouse Village, a stalled $30 million mixed-use development modeled after a traditional English village.
EVB is foreclosing on three acres known as Preservation Park, which includes nine development parcels. Among those is the Rose & Crown Tavern, a restaurant housed in a home built in the 1800s.
The auction is set for April 3 and is being handled by Tranzon Fox.
The 21-acre project is broken into two sections, Preservation Park, the commercial center of the village that has seen some success in luring businesses, and Maidstone, which is to consist of about 70 yet-to-be-built homes.
Developer Grosjean "John" Crump put the project in Chapter 11 in September to prevent a foreclosure by Essex Bank, one of three lenders owed money on the development. Essex was looking to foreclose on its portion of the Maidstone section.
Last month Crump made the unusual move of requesting to have the bankruptcy dismissed, saying at the time he was looking to work out new terms with lenders and keep the project alive.
Essex Bank has twice issued foreclosure notices on Maidstone. This is the first time one of the project's lenders has gone after Preservation Park.
Dean Crouch, an official with EVB, did not return a call by press time.
Crump told BizSense in an email Monday that he is in the midst of negotiations on financing options and finding more funds for development.
He said that business at the tavern is good and that there is still interest in the development's commercial space, but there's not enough financing to get the buildings out of the ground.
"The solutions are challenging but not insurmountable," Crump said. "We hope to work out something that allows us to move the project forward in the near future."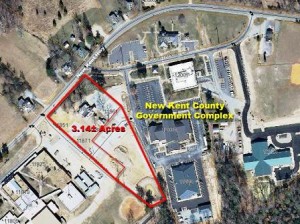 Crump, New Kent County's former commissioner of the revenue, started working on the development eight years ago. The project stalled after it ran out of money and was unable to obtain new financing to keep it going.
EVB, Essex Bank and Colonial Virginia Bank are the main lenders on the project.
Essex Bank is owed $2.53 million, Colonial Virginia Bank is owed $1 million and EVB is owed about $750,000, according to bankruptcy filings.
Crump fashioned his vision after a traditional English village, which includes a church, government building, school and green space within walking distance.
About $9 million has been spent on construction of the first phase of the village, Crump said. About $3.5 million of that was spent on the infrastructure.
Although it's not unusual for a bank to be negotiating a refinance while leaving open its ability to foreclose, it appears that next week's auction is moving forward as planned, according to Bill Londrey, a senior executive vice president at Tranzon.
"The hope is that someone will come in and continue to do, if not the exact same thing, something in the spirit of what was there," Londrey said. "The nicest, most complete part is the completed and operating restaurant. But the bank didn't want to be a landlord for a restaurant."
Crump is also the owner of the restaurant.
"It can be income-producing right off the bat," Londrey said, "as opposed to buying a totally dead site."
In addition to the tavern, the commercial plots up for auction include a 1,500-square-foot completed commercial building and another seven pads for further construction. There is about 26,000 square feet of commercial space at the development that is built and occupied. The tenants include a bank, a fitness center, medical offices and restaurants.
Londrey said the small size of the project makes it more attractive for auction than other larger stalled developments.
"It's sad for [the developer], but it's another market correction, and it's an opportunity for someone else to step in and move the ball forward," Londrey said.
Bill Broscious of Kepley Broscious & Biggs is substitute trustee for the bank on the foreclosure.
Photos of the development are by AignerGraphics.com.