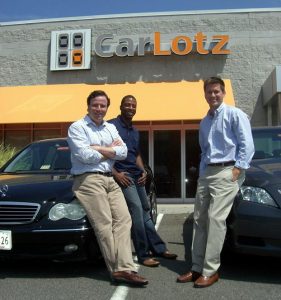 A local startup that just raised a trunk-load of cash has expansion on its mind.
CarLotz, a used car consignment concept that's almost a year old, closed this week on a $1.5 million round of financing.
CarLotz co-founder and former investment banker Michael Bor said the company will use some of the money to open a second and possibly third location.
"We feel like it's time to grow," Bor said. "We're still perfecting the model and tweaking things as we go."
The company is in negotiations for a second Richmond location, but Bor would not say exactly where.
"We think the West End is the logical next step for us," he hinted.
It's also looking to venture out of Richmond.
Bor said he and his partners have been looking at properties in Hampton Roads but are not to the point of negotiations. With a heavy concentration of military personnel, Hampton Roads has a competitive used car market.
"We'll definitely have another store this year and maybe two by the end of the year," Bor said. "The goal is to have three to five in the next couple years."
CarLotz is trying to appeal to car owners who want to sell a used vehicle without the hassle of listing it on Craigslist or the financial hit of trading it in to a dealer, where prices tend to be the lowest.
That company has a lot on Midlothian Turnpike, where it details the cars and takes potential buyers on test drives.
Customers pay CarLotz $199 to prep the car for sale. The customer sets the price, and the company markets the vehicle and handles all the calls and offers that come in. If and when a car sells, CarLotz takes $600 out of the proceeds. The fees are the same no matter the sales price of the car.
This is the second capital raise the company has completed since investors put up $525,000 upon its founding last April.
The company used some of that money to open its first location last May at a 1,600-square-foot storefront and 70-spot car lot on Midlothian Turnpike. It's surrounded by other dealers, including the Richmond-based used car heavyweight CarMax, in what is known as the Midlothian Motor Mile.
This time around, Bor said, the company had an easier story to sell to investors.
"When we went back and had a store to show investors and a concept to show them, it got a lot of interest pretty quickly," he said. "Not to say it was easy to raise money — it never is."
The latest $1.5 million raise came from some new investors and from those who previously bought in. Most were local. Investors took a stake in the company in exchange for the capital, Bor said.
CarLotz has sold several hundred cars, Bor said, although the company won't give out exact numbers.
The company has seven full-time employees, including the three founders. New employees will be added as locations open, Bor said.
Bor said CarLotz is still working to educate the public about its concept.
"A continuing challenge is spreading the movement and getting people to understand what consignment is and what it means for them," Bor said. "We still get skeptical buyers that say 'I don't know what this is.'"
Bor said the capital would last the company a while, although it will also use a portion to upgrade some of its technology.
"We used actually very little of the initial capital we raised," he said. "Now we think our spending will increase, but as a business we're doing fine and there's not a tremendous burn. It's really more about investing in the future."
And sales have been brisk enough that Bor, 38, co-founder Aaron Montgomery, 34, and Will Boland, 30, finally started paying themselves — something they hadn't done until a few months ago.
The paychecks aren't huge yet, Bor said.
"It's about as much money as I made when I was in high school working on an assembly line. For the three of us, it has been a labor of love, and we think if we keep working hard that the reward will be there," he said.