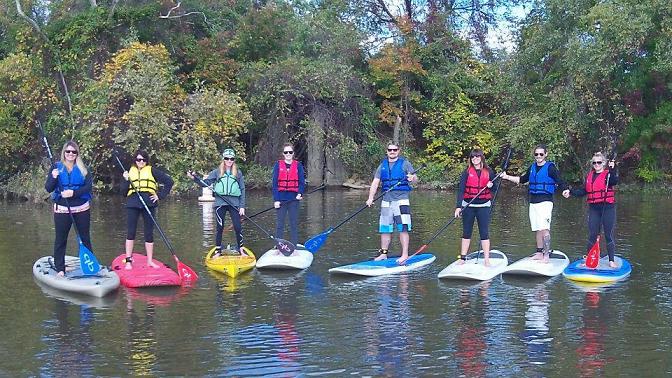 As the mercury creeps up, two entrepreneurs are expanding their aquatic offerings on the James River — including yoga classes on a standup paddleboard.
Bryan Smith and his wife, Camille, started Black Dog Paddle last year.
The two teach standup paddleboard classes on the weekends at Robious Landing in Chesterfield, Dutch Gap and the Swift Creek Reservoir.
BizSense caught up with Bryan Smith, 38, to see what new ideas the company is floating into this year.
Below is an edited transcript.
Richmond BizSense: How has business been since we last talked?
Bryan Smith: We've upped our classes to 12 [people] this year. Last summer we could only take on eight, but we've brought on a part-time instructor, so we can expand our classes. We filled every single class last year and added a 4 p.m. to 7 p.m. class. We had about 25 people on the eco-tours and taught about 160 people last summer in the basic class.
RBS: What classes have you added?
BS: SUP yoga and paddle fitness. Camille just got YogaFit-certified, and we're partnering with Project Yoga, a Richmond nonprofit. We'll teach yoga on the water on Fridays and have sunset yoga sessions on selected Sundays.
Every other Monday night, we have Pack Paddle nights for $20. We'll go to Robious Park Landing and paddle to the 288 bridge. We've added a Super SUP class, which is a cardio workout, and we added a PaddleFit class last year. People do squats, pushups and plank on the boards. It's intense. You're working your core muscles to maintain stability, and you're exhausted by the end of it. Camille recently read an article that said a one-hour paddle on a standup board burns 700 calories.

RBS: Have you bought any new equipment for the classes?
BS: We have a fleet of 22 boards. Last year we had 17, so we bought a few. Most of them run $800 to $1,300. We also purchased a 16-foot trailer for $3,500 to bring the boats to the classes. Before we were keeping them in our garage and toting them to the classes in the Tundra.
RBS: The name of the business is Black Dog Paddle. Do any students bring their dogs?
BS: We have a 74-pound black lab, and we always paddle with her. And we've had a couple of dogs go out with us. A lot of people end up falling off and swimming with their dogs.
RBS: You're taking people out of their element. Anything funny ever happen?
BS: We did about nine day camps last summer that were run through Chesterfield County's outdoor program. And they're insane. You give the kids a paddle, and they want to make it a machine gun or a bat. They take the paddleboard and turn it upside down or see how many kids they could put on one board.
We've had a lot of fun with husbands and wives that come. They get on the same board, which is an interesting team-building exercise. They have to work together to be successful. It's funny to watch — there's a lot of tension and anxiety in the beginning, and sometimes they both end up in the water.
RBS: Have you taken it full time?
BS: No, we still have our full-time jobs. We probably need to expand a little more before we take it on full time. Hopefully by next year we'll be able to. Camille is hoping to take it on in full time in the summer.
RBS: Has Black Dog Paddle been profitable yet?
BS: It exceeded our expectations 100 percent last year. We don't know how much we'll expand this year, but if we can teach about 200 people this summer in the basic class, that would be good.
RBS: What are your plans for the summer?
BS: We're going to start a whitewater standup class in mid-May through June where we will be paddling through rapids. We'll start at Pony Pasture and go to Reedy Creek. It's a much more advanced class. The class is $70, and we have six signed up already.
We're planning full moon paddle night trips in June, July and August. We'll go out around 7 and come back around 10. We're also working on a standup fishing program.