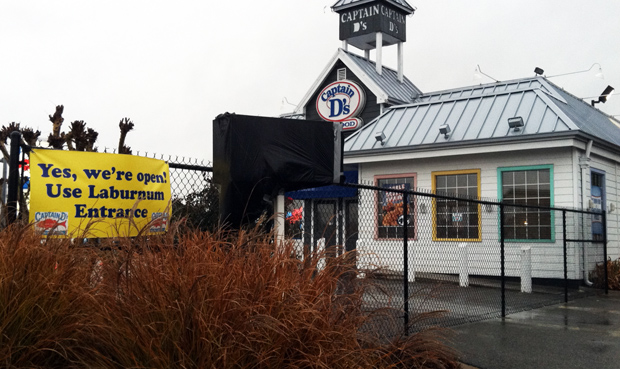 The quarrel has ended, and the fence has come down.
After feuding for months with a neighboring landlord, the Captain D's at the corner of Laburnum Avenue and Williamsburg Road has reached an agreement with the owner of an adjacent strip of land the seafood restaurant had used for decades as part of its driveway and parking lot.
Captain D's had a sign up bad-mouthing the other landlord, and that, too, has come down.
The riff began last year when an easement granting Captain D's access to the land expired.
The two sides couldn't reach an agreement on a new easement, and the restaurant rebuffed the landlord's offer to buy the Captain D's property.
That's when the fence went up.
The owner of the easement, Triess Richmond LLC, put in a fence blocking customers from accessing the restaurant off of Williamsburg Road and cutting through some of its parking spaces.
The restaurant's owners, West End-based CD Restaurants, then plastered a huge sign on the side of their building proclaiming to passersby that they wouldn't take it lying down.
"No, we won't sell! We're still open despite the efforts of the Walgreen's landlord, the Walgreen's developer and Walgreen's real estate representatives." (Walgreen's leases the remaining land next door to the restaurant.)
The two sides inked a new easement last week, allowing the fence to come down.
"We all came to an agreement that we could live with," said Jeff Nicklas, a spokesman for CD Restaurants. "They tore down the fence. It's back to business as usual."
Nicklas wouldn't discuss the terms of the easement, only saying that it involves a multiyear contract.
Morgan Property Group, a real estate developer in Florida, represents Triess Richmond LLC.
Morgan Property President Trey Morgan said through a spokesperson "the issue has been resolved to all parties' satisfaction."
Morgan previously told BizSense that Walgreen's had nothing to do with the dispute.
CD Restaurants is part of a group of companies that owns 36 Shoney's and Captain D's locations in Central and Eastern Virginia.
Nicklas said the company and its customers are just glad things are back to normal.
"We've been there for almost 30 years, so lots of people like us out there," he said.