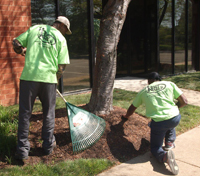 For homeowners who are sick of hiring the kid down the block to mow the lawn halfway and those who would rather not spend a fortune paying movers, Corey Divine has the answer.
Divine launched Rent the Help in February to cash in on something he's been doing since he was a kid.
Rent the Help sends workers to houses across town to do anything from dusting blinds to raking leaves to staining decks. The company also provides cleanup for events and helps people move.
"There are landscapers, there's movers, but there's no group to just give you a helping hand," Divine said. "We're the bonded and insured neighborhood kid."
The business has about 40 clients and eight employees that tackle all sorts of odd jobs in the metro Richmond area.
To "rent the help," customers pay $19.95 per hour per employee. Divine said that rate has given him the leg up on competition in the area.
"A professional moving company is going to charge an arm and a leg," he said.
About 60 percent of Rent the Help's clients have been people looking to move. Divine said the other 40 percent of the clients needed help with some type of yard work or cleaning.
"We've had a lot of elderly couples that can't bend down to clean their blinds and baseboards," he said.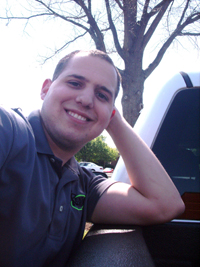 Divine said he occasionally gets strange requests.
"We had somebody call that wanted us to pay their rent for them," he said. "My guys have run into a couple snakes, and we've helped a couple pack rats move, but nothing where I had to step in and say this is a little extreme."
He pulls all of the employees from his father's staffing firm, Divine Staffing, with whom he shares office space with on Staples Mill Road.
Divine and his father invested between $40,000 and $50,000 for insurance, a website and a truck to launch the startup.
Rent the Help has found most of its business through word of mouth and referrals.
Divine said he also sold 84 vouchers in a daily deal special he recently ran for $39.
Divine's idea for the business started with some muscle work of his own.
"My dad had a [yard] project for me when I came home for fall break," he said. "We live in the country and had to chop down trees and clean up some shrubs and plants.
"When I was at school, he didn't have anyone to do them."
From there he started work to turn his odd-job efforts into more than just some extra beer money.
"I looked at the whole country, and no one is doing it," he said.
Divine, 22, graduated from Gardner-Webb University in North Carolina in December. A Charlottesville native, Divine moved to Richmond in January to launch Rent the Help and is running the business full time.
"It's like picking up a bridge. It's not as easy as you think, but I always wanted to own my own business," he said.
Most of the clients are individuals, but Divine said he's looking to expand into corporate clients this year. He's also planning to take his startup on a larger scale.
"Rent the Help has the potential to go nationwide," he said. "The goal is to franchise."