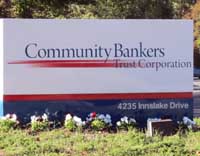 A local bank that owes the government more than $1 million finally got the green light to make its first TARP payment in more than a year.
Glen Allen-based Essex Bank and its holding company, Community Bankers Trust Corp., received approval from federal and state regulators to once again begin paying the dividends owed to the U.S. Treasury as part of its participation in the TARP Capital Purchase Program.
It made the $221,000 quarterly payment March 16 after missing its previous seven payments.
Essex and CBTC received $17.6 million from the TARP program in late 2008. But after huge losses on tens of millions of dollars in bad loans, the bank stopped paying dividends of all kinds per a written agreement.
Essex needs regulatory approval each time it wants to pay a dividend.
"Things are looking much better for us," said Rex Smith, chief executive of Essex and CBTC. "We're getting there."
Smith, who previously ran the former Bank of Richmond, has been on the job at Essex for about a year. And with 2011 bringing the bank its first annual profit since the recession, Smith has the bank's sights set on digging its way out of the written agreement and getting TARP off its back.
"The agreement came about because of problems we created for ourselves," he said. "We grew too fast, didn't pay attention to some of the warning signs and [weren't] aggressively managing these problem loans."
CBTC has $40 million in non-performing assets on its books. It got caught in some big projects that went sour, such as the Federal Club, Justin French's historic rehab scam, the Tetra Companies and Roseland.
Smith said the bank has worked hard to get those problems in check. It has hired about two dozen employees specifically to manage problem loans and foreclosures.
If and when the written agreement is lifted, Essex could then cut the Treasury a big check.
"Treasury wants to get it paid back, and we want to pay it back," Smith said. "But to pay it completely off, we're going to have to be a healthy and strong banking franchise. If you're under written agreement, those two don't go together."
The money is there, he said, but it's too soon to part with all that cash.
"I could write a check tomorrow to Treasury for the $17 million and still be well capitalized in all the [regulatory] ratios," he said. "But we have to make sure we're clean and working right."
And the bank still has more work to do on its TARP back payments.
The permission it received last month was a one-time deal. It still must get approval from regulators for the other six missed payments and any future payments to TARP.
If it's approved to make other payments, Smith said the bank would look to double up on quarterly dividends to get current, possibly by the end of the year.
Essex has $1.09 billion in assets and 24 branches spread across Virginia, Maryland and Georgia.
CBTC was created in 2005 as a bank acquisition company. It began its growth in 2008 by acquiring banks and bank holding companies in Virginia and the assets of a failed bank in Georgia. It acquired another failed bank in Maryland in early 2009. All were brought under the Essex Bank umbrella.