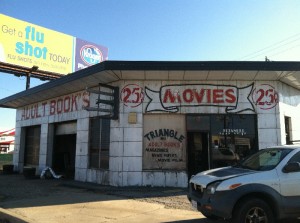 Adios, soft porn; hola, soft shells.
Two Richmond restaurateurs are opening a taco restaurant on Boulevard in the former home of the infamous Triangle Book Store.
Patrick Stamper and Randy O'Dell, formerly of Mezzanine and owners of BellyTimber Tavern in the Fan, hope to open En Su Boca in June. (For those of you who don't habla Espanol, that translates to "in your mouth.")
The building, which began its pre-porn life as a Texaco in the 1950s, is being developed by Charlie Diradour of Lion's Paw Development.
Diradour said he hoped to have the shell finished by June.
"We did a thorough cleaning. We stripped it down to the cinderblock walls. We're adding an expansion, an HVAC, connecting water and so on," Diradour said.
The whole project is going to cost the developer about $350,000, he said.
Stamper said a trip last year to San Francisco's Mission District, which is home to a handful of little taco shops, or taquerias, inspired him to open one of his own.
"When I got back from San Francisco, Randy and I started talking about it," Stamper said. "Then Charlie called us and said he had a place available. It started as a few jokes back and forth then all the sudden we were opening a restaurant."
The pair have big plans for the restaurant, including a deck that's going to be larger than the square footage of the structure.
"Between outside and indoor seating, we should be able to seat about 150 people," Stamper said.
O'Dell and Stamper are working with a third partner, San Francisco chef Eric Stangarone, who is helping them develop the menu.
"It's getting more upscale all the time," Stamper said. "We're going to keep it casual, but we're going to have a pretty big menu of Latin foods."
Stamper said that, unlike the taquerias of San Francisco, which are mostly pre-pay operations, En Su Boca would be a full-service restaurant. Patrons will also be able to drink from buckets of beer and pitchers of sangria on the deck before Flying Squirrels games, he said.
Stamper said the rehabilitation of Triangle Book Store last year was a big part of the ongoing transformation of the Boulevard.
"I think before people may have seen the potential in that corner of Richmond, but there was always this disgusting little porn shop that had been there for more than 30 years," he said. "Now that it's gone and getting turned into something really great, I think it will have a big impact on the neighborhood."