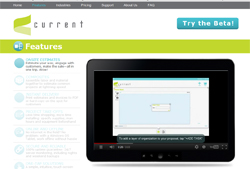 A local software engineer and his college buddy have launched a startup to make business run a little smoother for contractors.
Joe Mugavero and Abe Gillespie are the brains behind Current, a software application they launched last year under their startup company Wave Reform.
The application is meant for roofers, plumbers and other specialty trade contractors to sell and estimate projects while on a job.
"They can tell them [customers] exactly what the project is going to cost," Mugavero said. "We built the application for field use."
Current also allows business owners to store their prices and customer information. The information is hosted on the cloud, so users can be access it on or offline.
Mugavero, 27, said he created Current to keep contractors in the field instead of spending extra time going back and forth to the office.
"We're talking warehouses full of boxes of files," he said. "Similar to what the hospital and medical industry looked like before online charts."
The business partners started working on the project two years ago and launched the Wave Reform company in May 2010. They launched their first test of Current in early 2011 after attending a few trade shows.
"We got affirmation from contractors, so that's when we decided, hey, we have something worth doing," he said.
The two had a few investors that put up $50,000 for the business. Mugavero has also invested about $50,000 of his own savings.
Eight companies, including from New York, Blacksburg, Pennsylvania and Washington, have bought the software application. Current is free to download, but companies pay $10 per project they land.
Mugavero got his start in the construction industry early, and while attending Virginia Tech, he got a management position at Shelter Alternatives, a homebuilder in Blacksburg.
But while working at the firm, Mugavero said an idea sparked.
"We wanted to estimate and sell projects more effectively in the field," he said. "We were using Excel and Quickbooks, and in end it was a lot of double entry and wasn't professional, and it was very time consuming."
After two years as a business major, Mugavero realized college wasn't the route for him and left school in 2005 to pursue an energy startup. He quit both gigs last May to run Current full time.
Gillespie, 34, is a local freelance software engineer and met Mugavero while attending Virginia Tech.
This isn't Gillespie's first startup venture, either. Last year, he started Tendr.me, a web service that allows users to send and receive money they have deposited from their checking account into their personal Tendr.me account.
Gillespie now helps run the business from Richmond, and Mugavero is managing the startup from Pennsylvania.
The two don't have any companies in Richmond hooked yet, but they plan to market to companies and contractors here.