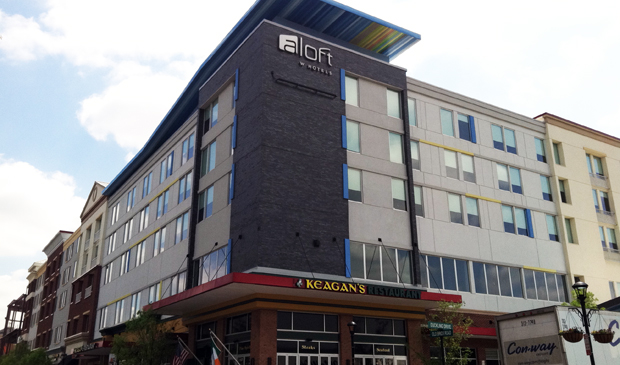 Correction/Clarification: A previous version of this story incorrectly stated LTD Management Co. is the owner of the Aloft hotel. The hotel is owned by Short Pump Hotel Partners LLC, which shares an address with LTD Management. Short Pump Hotel Partners LLC's managing member is Neel Desai, a principal at LTD.
The article incorrectly stated that LTD Management is the borrower on the $19.25 million loan for the hotel. Short Pump Hotel Partners LLC is the borrower.
The story also stated that the loan on a hotel at 4050 Cox Road (which is managed by LTD) was in non-performing status and that the loan was borrowed by LTD. Since this article was first published the borrower on that loan, an LLC also with the same address as LTD Management, extended the loan, according to commercial real estate tracking firm Trepp. 
A local bank wants to take control of a Short Pump hotel whose owner defaulted on the property's $19 million loan.
Midlothian-based Community Bankers Bank wants the court to appoint a receiver to take over operations of the Aloft Hotel, which opened two years ago in West Broad Village.
The owner of the hotel is listed as Short Pump Hotel Partners LLC. Also named as a defendant in the suit is LTD Management, a Chesapeake-based hotel developer and manager known now as LTD Hospitality. The LLC defaulted on the loan in October and has not settled up despite negotiations late last year and more recent demands by the bank.
Community Bankers Bank filed suit this month in Henrico County Circuit Court to ask for permission to have a receiver put in place while it considers its options, which include foreclosure.
Community Bankers Bank made the $19.25 million loan in 2008 in conjunction with other unnamed banks. The bank is what's known as a correspondent bank, which helps facilitate large commercial participation loans. The Aloft loan matured in October.
The hotel, meanwhile, is open for business and bringing in money.
In its argument against the need for an emergency receiver, LTD  stated in court filings that the Aloft property is generating revenue that exceeds its expenses, not including debt service.
"The hotel is open, fully staffed and stocked, and there are no plans to close it, unless [the bank] forces that to happen," it in its opposition statement.
Aloft had an average occupancy rate of 61 percent over the past 12 months with revenue of about $3 million, according to a balance sheet of the hotel's operations included in court records.
But despite that history of positive cash flow, the borrower has failed to make any payments since October, according to the suit.
In addition to a first lien on the hotel, the bank holds a lien on the revenue of the hotel. It has not received any of that money, it claims in its suit.
LTD in its argument against appointing a receiver does not explain why the matured loan has yet to be repaid.
News reports out of Hampton Roads and commercial loan data show that other properties LTD developed and manages have been in this sort of bind before.
LTD manages three hotels in the Richmond market, including the Hyatt Place on South Laburnum Avenue and a Hilton Garden Inn on Cox Road near Innsbrook.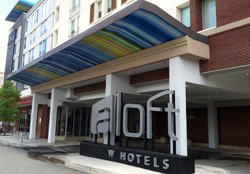 It also manages dozens of other hotels, mostly in Virginia and Maryland.
CBB claims in its suit that it is concerned that revenue from Aloft might be diverted to pay obligations on LTD's other hotels.
The loan on the Hilton Garden Inn had been in nonperforming status, having matured almost a year ago with more than $13 million owed, according to a report this month from Trepp LLC, a New York firm that tracks delinquencies on commercial mortgage-backed securities.
The CBB suit claims that the Aloft-owning entity is insolvent because its only asset is the hotel, which is worth significantly less than what's owed on the loan.
The property was most recently assessed by the county at $4.8 million.
A report from the Virginian-Pilot in late 2010 found that LTD was overleveraged and in default on several of its Hampton Roads hotel properties. The company, according to the report, grew rapidly in the years leading up to the recession. The subsequent decline in property values left it underwater of some of its hotels.
Community Bankers Bank declined to comment. Its attorney, Robert Chappell III of Spotts Fain, said federal law prohibits him or the bank from discussing the dealings of one of the bank's borrowers.
LTD and Short Pump Hotel Partners LLC, are represented by Allan Heyward Jr. and David Hopper of Cook, Heyward, Lee, Hopper and Feehan.
Calls to LTD Management, including principal Neel Desai, were not returned.
Lenders typically seek a receiver when the collateral on a loan is operational and generating revenue, figuring it's better to keep the business running and money coming in than shutting it down through foreclosure.
If approved, a receiver would operate the property for certain period until the bank figures out what's next. A trustee might be hired to conduct a foreclosure. Or the property might not end up in foreclosure if the two sides can find a way to come to terms on payment or a new loan.