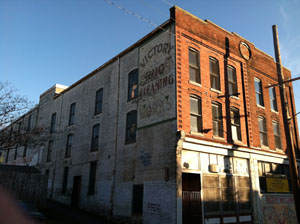 A small Richmond neighborhood is objecting to the planned development of a vacant building.
Developer Guy Blundon of CMB Development wants to turn the old Victory Rug building in Oregon Hill into an 18-unit apartment building.
But some residents say that's too many apartments, and they want Blundon to lower the potential headcount.
"We would prefer a plan closer to the original zoning," said Jennifer Hancock, head of the Oregon Hill Neighborhood Association. "Personally, I'd like to see the two lots developed as single-family homes and maybe six apartments."
Blundon filed a special-use permit application with the city last month for the project that would also include 18 parking spaces on an adjacent lot.
The current zoning for the property at 407 S. Cherry St. would allow what Hancock suggests, but there's a problem: According to the project proposal, anything fewer than 18 apartments puts a wrench in the projects financials.
"Eighteen is the absolute minimum number of units for the building to remain a viable project economically," the project proposal reads, going on to say that anything smaller would reduce the size and quality of the apartments and wouldn't attract the young professionals the developer hopes to snare.
Blundon said the community doesn't want more VCU students in the area, each with their own cars taking up spots in the neighborhood.
"What they don't want is student apartments, and I'm not building student apartments," Blundon said. "I can't promise that a student won't live there, but these are really designed to attract young professionals."
According to the proposal, Blundon reduced the density in the apartments after meetings with the neighborhood association from 24 apartments to 18.
Blundon bought the building, once owned by socialites Allen Mead Ferguson and his wife, Mary Rutherfoord Mercer Ferguson, last year for $600,000 at a bankruptcy auction.
The permit application calls for one studio apartment, six one-bedroom apartments and 11 two-bedroom apartments. Blundon said he is working with Xenith Bank to secure financing between $2.5 million and $3 million, or about $166,000 per door.
Hancock said she is preparing a letter detailing the neighborhood association's concerns, which would be considered by the city during the permit process.
Neighborhood associations around town can be slow to embrace new projects. Last year, Rhode Island-based developer Gilbane had to trim its plans for a student housing development in Carver from 164 to 136 units after the residents complained about the density of their project.