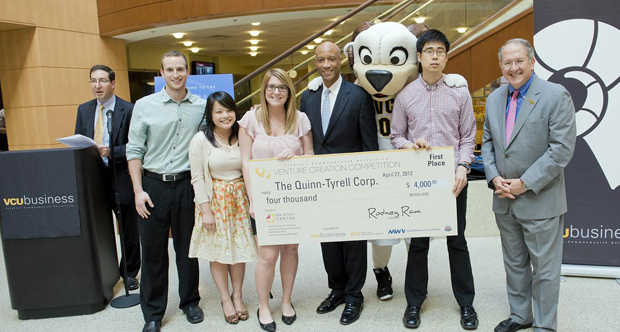 Five Virginia Commonwealth University students took home $11,000 in a recent business plan competition.
The university's Da Vinci Center for Innovation held its first Venture Creation Competition business plan competition to find aspiring entrepreneurs and award them some dough.
Of the 40 teams that submitted entries, five finalists pitched their business plans to a panel of 12 judges last week.
The Quinn-Tyrell Corp. won the $4,000 first-place prize for their flavored ice cream cones. The team, which invented 20 recipes for different kinds of cones, included VCU Brandcenter students Katie Acosta, Brian Jang, Jerry Roback and Mena Xiong.
Brian Jang said the idea came about while working on a project for a class this semester.
"One question that seemed fun was what's going to be the new cupcake?" said Jang, 35.
"When you look at cones you can get at the store, they're practically styrofoam cups, and a lot of them don't even have expiration dates," he said. Flavored cones are "way better than what you can get at the store."
Jang said the group plans to use the money to cook up some new recipes, market the product and pay for living expenses while they're still in school.
VCU School of Business students Austin Callwood, Justin Kauszler and Joshua Newton took home the $3,000 second place prize for CycleStay, a bicycle rack system with an electronic locking feature. The device would send a text message to the user's phone if someone were tampering with the bike's lock. Users would buy a monthly membership to reserve the locks.
Third place went to a group called Fourpoint Art, which pitched a website for artists to promote their work. Owen Duffy, a VCU School of the Arts graduate student, won $2,000 for the idea.
Two other finalists were awarded $1,000 each to put toward their potential businesses. A group called Control pitched a medical device connected with an app for asthmatics to monitor their condition, and Gryffindo proposed a 24-hour art supply store.
Kenneth B. Kahn, professor and director of the Da Vinci Center for Innovation, said this year's event was the first competition open to all VCU students.
"One of the elements was to encourage students to take things forward past the research stage," he said. "It's an opportunity for them to get in front of people and use this as a vehicle for their ideas."
Kahn said he's already secured funding for next year and plans to hold the competition each spring.
VCU's Office of Research, its School of Business, the MWV Foundation and Motley's Richmond Auto Auction put up funding for the competition. The judges included head of Hot Technology Holdings Karen Booth Adams, HDL's CEO Tonya Mallory, Mike McKinley and Frank Ball from New Dominion Angels, Dick Menendez, chief operating officer, Motley's Richmond Auto Auction, and a few other lawyers, business owners and VCU professors.