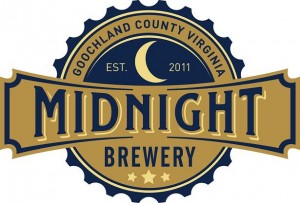 A kegger broke out Friday night at a Goochland County industrial park, and Trae Cairns's beers were the life of the party.
The event marked the official launch of Midnight Brewery, the latest entrant to the Richmond area's craft beer scene.
Cairns has been getting the small brewery up and running since last year, toiling away in a 1,200-square-foot warehouse on Granite Ridge Road in Rockville.
A networker for a local shipping company, Cairns works on his beers after hours, usually late at night — hence the Midnight moniker.
Now he has to decide whether he might make a go of brewing full time.
"I turned a hobby into a vocation," said Cairns, 44. "The potential is there."
A soft-spoken guy, Cairns found himself a celebrity for the evening as people waited to ask him questions about the beer.
"My brain's a little fried right now," he said during the event.
Cairns unveiled three beers at the launch. There was Rockville Red, an Irish red ale; New Beginnings, a Kolsch-style ale; and a weizenbock called Banana Pancake, a strong dark beer brewed in collaboration with they guys over at Richmond-based Hardywood Park Craft Brewery.
For now, Cairns and Midnight are taking small steps.
He's working with Brown Distributing, one of the largest beer distributors in Richmond, to get the beer out there in small batches.
But Midnight's growth is limited by its capacity. Cairns has a three-barrel system pumping in his warehouse. Hardywood, by comparison, recently added two 80-barrel tanks.
"We can't just send Brown 1,000 kegs," he said. "It takes a lot to run a brewery. It takes time. It takes money."
There's nothing set in stone in terms of distribution or getting Midnight beers in any specific bars, restaurants or stores.
But Rockville Red is sold on tap at, of all places, a nearby Shell gas station and a car wash called Aw Shucks that is known as an evening hangout in Goochland.
"So we're actually generating money,"Cairns said.
Cairns has funded Midnight Brewery himself, and he wouldn't say how much he's put into the business.
He has received offers from people who say they want to invest, but he isn't quite ready to give up any control.
"Not to be selfish, but it's my brewery," he said.
With plenty of people showing up to try his brews at the launch, Cairns said the business's potential is building in his head.
"You hope to make a little bit of money. You do it for the passion for craft beer," he said. "Where it takes me from here, I don't know."
Cairns and his beers will be at the Richmond Food Cart Derby on May 20 at the 17th Street Farmers Market.