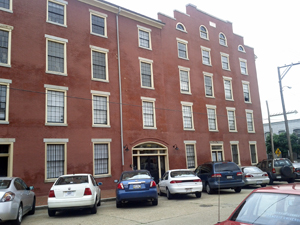 A Chester developer this month bought a 46-unit apartment building in Shockoe Bottom for $3 million.
Plus MGT, owned by George Emerson and Phil Roper, purchased the Shockoe Place Apartments at 1900 E. Franklin St. on May 1 from CWCapital, a firm that holds and sells troubled real estate and its debt.
The developers now own almost 550 apartments in and around Shockoe Bottom, said Tara Carter, director of operations for Plus MGT.
The apartments were about 90 percent occupied and had a positive cash flow at the time of the sale, Carter said. The building also includes 6,000 square feet of vacant retail space, which Carter said would work best as an office.
"We would love to see an accounting office or an attorney's office in that space," she said. "It's a big space. Any type of retail would work well, also."
The apartments were foreclosed on in 2010 and bought at auction for $3.4 million, according to city records.
Roper said he bought the building because it is next to two other apartments he owns, American Tobacco Center and the Dill Building. The apartments are in rough shape and need a little TLC, Roper said.
"That property needs somebody like us to come in and take over," Roper said. "We're doing the things the market demands to make it a good property.
Roper said he was going to spend about $3,000 on renovations for each apartment along with renovating the lobby and installing washers and dryers. Roper said there was deferred maintenance that needed to be taken care of as well.
Roper and Emerson also own the Cedar Broad Apartments, the Poythress, Marshall Street Apartments and Shockoe Commons.