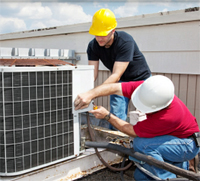 A Richmond heating and air conditioning business that closed in late 2011 has filed for Chapter 7 liquidation.
Hix Heating & Air Conditioning on Monday filed for Chapter 7 bankruptcy, listing estimated assets of $18,000 and liabilities of $1.25 million.
The company owes the IRS $575,000 and BB&T $109,000.
BizSense was unable to reach Vice President William Hix Jr. or his lawyer, Jeanne Hovenden. Hix now works for AirRight, according to the bankruptcy filing. The former phone number for Hix now goes to AirRight.
Hix Heating grossed $3.1 million in sales in 2010, according to the filing, which does not list the 2010 or 2011 revenue.
A source close to the business said it closed at the end of 2011.