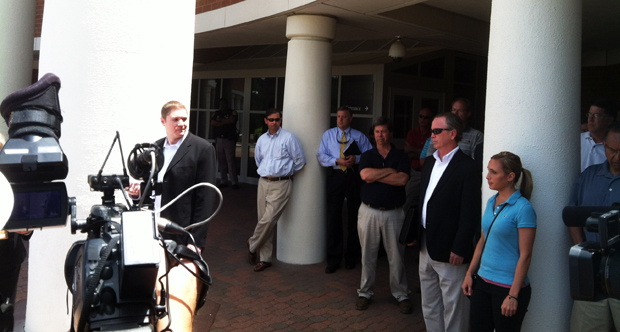 Two troubled properties are in new hands.
At 1:30 today, Shaw Industries took control of SportsQuest, the 120-acre turf field complex in Chesterfield County, by credit bidding at a foreclosure auction on the steps of the Circuit Court. (Pictured above). Shaw Industries financed the turf and was the biggest lien holder. A source close to SportsQuest said that there may be another deal in coming weeks.
Less than an hour later in Caroline County, Tennessee-based fair operator Universal Fairs paid $5.35 million for the State Fair of Virginia's 330-acre fairgrounds and most of the intellectual property, such as the name.
BizSense previously reported that Universal wanted to run a fair in Richmond and was looking at the Richmond raceway complex as a possible location.
You can read more about both sales tomorrow at RichmondBizSense.com.