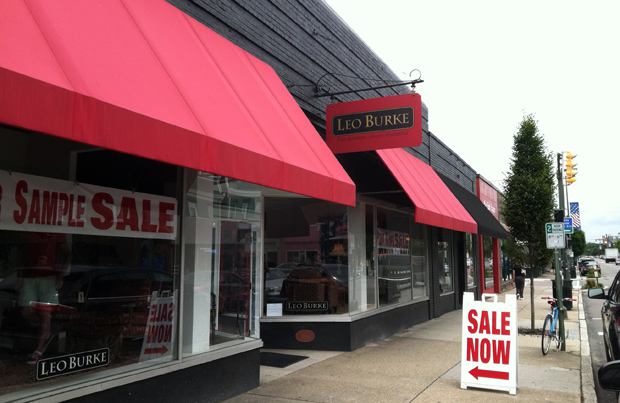 A Carytown fixture is calling it quits after five decades.
Leo Burke Furniture will close this summer after it sells off its inventory. It announced the pending closure last week in a brief paragraph on its Facebook page.
"We decided that now is the time to do it, and we're going to do it while we're on top," said Jack Burke, president of the company and son of founder Leo Burke.
The store has been in the same block of Carytown since it opened in 1958.
It originally occupied 3116 W. Cary St., where Agee's Bicycles is now.
"I've done it for 33 years. We've been in business for 54 years," Burke said. "We're looking at trends and so forth and felt like now is the time."
The store has been in its current location at 3108 W. Cary St., between Belmont and Auburn avenues, since the late 1960s.
There was a steady stream of customers Wednesday, with people stopping by to pay their respects and browse the sale.
"It's just the end of an era," Burke told a customer who came in to wish him well. "Time marches on."
Leo Burke's seven employees are sad about the news, Burke said, but also understand the move.
"People have certainly changed their buying habits. Channels of distribution have shifted," Burke said. "A lot of vendors that were important to us have gone out of business. Each time that happens, it has an impact. We felt like this isn't going to get any better."
The store has started a going-out-of-business sale and will start advertising it in coming weeks, Burke said.
The company owns its 9,000-square-foot store and plans to lease the space once it closes.
"We don't have any intention of selling it," Burke said.
Burke said that word has been spreading and that he's received calls from people interested in the space.
"This is a good time to be a property owner in Carytown," he said.
Burke, who was born the year his father opened the store, said the closure will mark his retirement from the retail furniture business. But he will look to continue to work in the furniture industry in some capacity.
Leo Burke is the second longtime Carytown retailer in recent months to decide to shut its doors.
Nearby Pirouzan Oriental Rugs announced this year that it would close after 27 years. Its owner made the announcement on its website.
Despite these recent closures, Jim McVey, a broker with Commonwealth Commercial Partners, said there's still plenty of interest in Carytown retail space.
Leo Burke's storefront shouldn't have a problem finding a tenant, he said.
"The location is good. It's challenged on parking," McVey said. "But it's in the right block. I'd say that [it] is one of the better blocks in Carytown as far as [customer] traffic."
Retail vacancy rates in Carytown are down from last year, he said.
Rental rates on retail space have also dropped to an average of $15 to $17 per square foot per year, McVey said.
The trend of closures goes beyond Carytown. Furniture stores across Richmond were hit hard by the slowdown in the housing market. At the beginning of the year, Shockoe Bottom furniture store These Four Walls said it was closing. And in January its Shockoe neighbor, La Difference, said it was closing its Short Pump store.