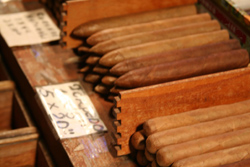 A longtime prison guard is hoping his new venture in Petersburg will unlock a new life as a business owner.
John Edmunds, 41, and his partner Garrett Lee pooled their savings to start Old Dominion Cigar Company in the historic section of Petersburg.
"I'm hoping to sort of wind down my time at [the Department of Corrections]," Edmunds said. "Start the next chapter."
The store, which opens Friday, will sell only La Casa Dominicana cigars. Edmunds said he discovered the brand a couple of years ago and fell in love with it.
Edmunds said Old Dominion's sister shop, the Richmond Cigar Factory at 17 1/2 N. 17th St., also sells the brand.
Edmunds said that he is thrilled with Old Dominion's location, at 411 Cockade Alley, and that foot traffic is decent in the area. He's hoping to capitalize on the local restaurant scene, the Petersburg First Friday art walk and the weekly farmers market.
Edmunds plans to continue working at the prison, at least for now. Old Dominion general manager Butch Clarke will run the store when Edmunds and Lee are out.
Edmunds said he doesn't have lofty expectations for sales out of the gate.
"We want to make enough to pay the bills so that it won't have to come out of our pocket," he said. "Of course we're in this to make some money, but if we can pay the bills, that's all right for right now."
The La Casa Dominicana cigars will run between $5 and $10 apiece.
"We're not selling $30 sticks," he said. "I'd rather sell five or six $7 cigars in a day than have a $30 cigar sitting on the shelf for six months."
Edmunds wouldn't discuss the startup costs, saying only that they were "too damn much."
Edmunds said he started smoking cigars while in college at Norfolk State. The Farmville native said he grew up around the tobacco fields.
The shop has a lounge atmosphere with TVs, WiFi and lockers for regulars to store their belongings. Edmunds said he wants it to be a place where people can hang out, talk and enjoy a cigar.
"A cigar shop is a sort of level playing field for all classes," he said. "Whether you're a rich man or a poor man, you're all the same in a cigar shop. No matter where you come from or who you are, if you're in there and you see someone smoking a cigar, you have something in common and something to talk about."