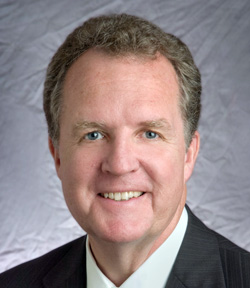 One of the most stable industries in Richmond — and perhaps the one growing the fastest over the past few years — has been health care.
Bob Atack, for example, is building out a 70-acre site in Short Pump as a mixed-use medical office park. And Pipeline readers will note that almost every week there is another medical user leasing space in the area.
A Hampton Roads-based health insurance company wants a larger slice of that pie. BizSense talked about the business of health care with Michael Dudley, chief executive of Optima Health, the health insurance wing of Sentara health system. Optima recently expanded its office space off of Three Chopt Road near Forest Avenue.
Dudley has been at Optima's helm for 15 years.
Richmond BizSense: You recently expanded your office space. What prompted that decision? Are you hiring more employees?
Michael Dudley: We hope to continue to grow our membership in the Richmond area, and we're growing out in Charlottesville and Rockingham County. We got the extra space in order to accommodate the growth.
We have about 40 employees in the Richmond area, and there will be some additions as we continue to grow and expand.
RBS: How long has Optima been in the Richmond Market?
MD: About 12 years or more. We started by serving a Medicaid population, and we still have a good number of Medicaid members. About six or seven years ago, we started marketing to companies.
RBS: And how many customers do you have?
MD: We serve nearly 60,000 members already. 35,000 Medicaid and the rest are commercial members.
RBS: Economic development people point to health care as one of the growth areas for the region. Why is that?
MD: When you say you see a lot of activity in the Richmond market, much of that is in preparation for January 2014. That's when provisions in the new health-care law go into effect. People who are not insured will have more access, and that's going to increase the demand for health-care services.
RBS: What's your take on the new law? Do you support it, oppose it or just accept it as a reality you need to deal with?
MD: I'm glad you phrased it that way: It is reality, and, like it or not, we need to be prepared for it.
But the fact is that there will be additional regulations that health plans will be subject to, and it will also increase the premiums for many customers.
RBS: What specific regulations will be driving the increases in premiums?
MD: First, beginning in 2014, health plans will have to pay new taxes. That will be a 2 percent increase, and most of those plans will have to pass those increases off to the customers.
Secondly, right now premium charges take into account the age and the health status of an individual or group of individuals. There will be new regulations that will restrict the differences we can charge from one person to another person, or one group to another group.
If you — a former sailor, 28 and in good health — went out to purchase health insurance, you pay very little, maybe $100 a month. You probably go to the doctor hardly at all if ever. But if you were 55 years old, overweight with diabetes, the premium for you is going to be much higher. In Virginia, it can be as high as eight times more, or $800.
Under the new law, there can be no more than a threefold difference between what we charge one person and what we charge another person. So your premium is going to go up to $200, maybe $250. That's because the 55-year-old can only be charged $600 to $700 per month.
We know who's going to be happy, we know who's going to be upset, but that's the law.
RBS: Are you going to have to alter your business model because of that?
MD: Our business model will continue to be as it is. We'll try to provide convenient and friendly service and do so as affordably as we can.
RBS: As part of the Sentara health system, Optima is a nonprofit. A lot of your competitors (Humana, Anthem) are for-profit. From a compensation standpoint, does that make it difficult to attract the best executives?
MD: Recruitment and retention of talent is good. It's competitive. That said, there probably are not as many incentives in the nonprofit sector. For example, we don't have the same stock options that are available at the for-profit organizations.
Most nonprofit organizations do have performance-based incentives, but the not-for-profit incentives are more modest than the for-profit incentives.