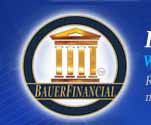 A local bank fell a notch to become one of the lowest rated banks in the state, according to ratings released this month.
For the second consecutive quarter, Midlothian-based Village Bank dropped a rung on the ratings ladder, according to Bauer Financial, a Florida-based firm that rates all federally insured financial institutions each quarter.
Battered by lingering bad loans and under written a agreement with regulators, Village received a zero-star rating from Bauer as of the end of the first quarter, down from a one-star "troubled" rating. Village is one of four banks in Virginia to receive a zero rating.
Bauer's ratings are based on financial information such as capital levels, profits and non-performing assets. The agency ranks institutions using a five-star system.
Those receiving four or five stars are considered "recommended" by Bauer. Those with two or fewer stars are considered troubled or problematic.
On the upside for local banks, Central Virginia Bank climbed further out of the cellar after several consecutive quarters of being among the lowest rated in the state. It was bumped up from one star to a two-star "problematic" rating based on its performance in the first quarter.
CVB had been among the few banks in the state with zero stars until it began to return to profitability.
Also receiving two stars were Virginia Community Bank in Louisa, Midlothian-based Bank of Virginia and Petersburg-based Virginia Commonwealth Bank.
Upstart Xenith Bank, fresh off two acquisitions last year and its first profitable year, moved up to a four-star "excellent" rating from 3½ stars.
Joining Xenith with four stars are Bank of McKenney, New Horizon Bank, Union First Market Bank and C&F Bank.
The Richmond region is home to two five-star banks: Bank of Southside Virginia and Peoples Bank of Virginia. Peoples Bank has since been acquired by First Community Bank out of Bluefield, Va.
Community Bankers Bank and Franklin Federal Savings Bank each received 3 1/2 stars. First Capital Bank, EVB and Essex Bank received three-star "adequate" ratings.
Eleven local credit unions received five stars for their performance in the first quarter: Argent Federal Credit Union, Hopewell Chemical FCU, Kraftsman FCU, Vantage Point FCU, Cadmus CU, Call FCU, Dominion CU, Nabisco Employees CU, New Generations FCU, RF&P Richmond FCU and Resources FCU.
Fifteen local credit unions received four stars.
Locally based Life Line Credit Union remained the only credit union in the state with a zero-star rating. It has been at that level for at least two years.
Life Line is an $8 million institution whose members include employees and volunteers of area medical organizations.