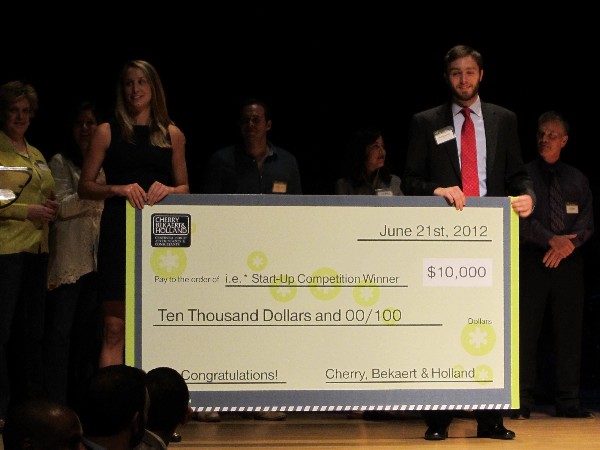 Crowd funding was a crowd favorite Thursday night, and a Richmond startup is $10,000 richer for it.
InLieu, an online crowd funding platform, won the title of "Richmond's Next Best Start-Up" Thursday at the finale of the Greater Richmond Chamber's inaugural startup competition.
As part of their victory, InLieu founders Kailey Raymond and Geoff Weathersby won $10,000 in seed money, six months of free office space and a $500 gift certificate to La Difference furniture.
Raymond and Weathersby, who both graduated from the University of Richmond in May, said they will invest the money in web development and marketing. The new office, which will be at incubator New Richmond Ventures, will be a major upgrade, Raymond said.
"We've been shacking up in U of R classrooms the last couple of months," Raymond said.
InLieu lets users post life events online and request donations to a cause of their choice "in lieu" of gifts. The for-profit company accepts credit card donations and takes a 10 percent cut of each gift.
Weathersby said 3 to 4 percent of the company's cut goes to pay credit card fees, leaving 6 to 7 percent as profit for InLieu.
Weathersby got the idea for InLieu from a fundraising drive he headed to start a scholarship in memory of his father, Terry Weathersby, who died of cancer last October.
The family requested donations toward a new scholarship fund in lieu of flowers for the funeral. Geoff raised $20,000 for the scholarship by promoting it through social media.
And the idea for InLieu was born.
Raymond and Weathersby then put the project in motion for a UR business class. The two went on to win first place and $3,500 in prize money in April at the UR business pitch contest. (You can watch the presentation the pair gave here).
The judges were particularly impressed with InLieu's preparation and adaptable business plan, said Hank Greenberg, owner of Roan and a judge at the contest.
"We were looking for people who were far along in the process, had done a considerable amount of thought and were ready to take it to the next level," Greenberg said. "We love their business model and think it's very marketable, incredibly scalable and good for our community."
Crowd funding carried the evening, as fellow crowd-funding startup Bonfire Funds took the crowd choice award via a vote-by-phone survey.
"It's a time for social entrepreneurs," Weathersby said. "And we feel like we're riding that wave."
InLieu beat out 12 other finalists at Thursday's finale, which was held at CenterStage.
The contest began with 143 contestants in the first week of June. The field was cut to 15 finalists after a round of public voting. Two finalists left the competition after they could not prove they had been in business for less than a year, a provision of the contest rules.
The winner was selected by a panel of eight local entrepreneurs, including Snagajob founder and CEO Shawn Boyer, Global Innovation Vice President Alex Cedeno, and Steve Hutcherson and C. Mason Gates of the InnoVArium.
Thursday's $10,000 prize was donated by accounting firm Cherry, Bekaert and Holland.
Weathersby attributed InLieu's victory to countless hours he and Raymond put in to develop their business plan. His advice for future competition contests: "Preparation, preparation, preparation."
"And have fun with it," Raymond added. "That's what it's all about."
View our slideshow below, and click the caption button in the lower left corner to view the captions: