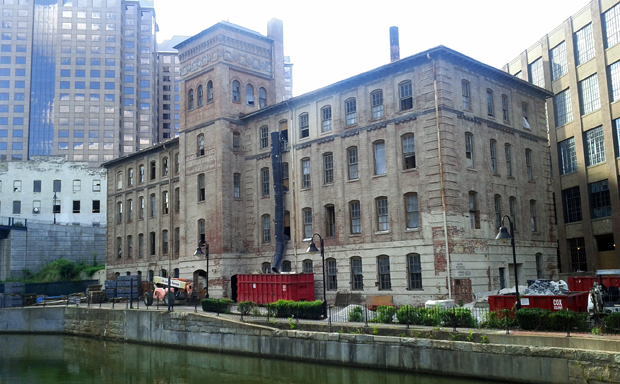 Sometimes, a name just really floats your boat.
Restaurateur Kevin Healy, who started the popular Boathouse at Rocketts Landing, has signed a lease for 5,700 square feet at the Reynolds North canal walk development downtown. The working name of Healy's new venture, Casa del Barco, should sound familiar, but for those of you who don't habla español, that translates to "Boathouse."
"We figured [that] whatever we call it, people are just going to say, 'It's the guys from the Boathouse," Healy said. "So we figured, 'Why not go with it?'"
Todd Richardson, executive chef at the Boathouse, will move upriver to develop the menu for Casa del Barco, Healy said. Richardson, who is Mexican, will be classing up the traditional fare a bit for a higher-end customer, Healy said.
Healy, who runs another Boathouse restaurant on Swift Creek Reservoir in Chesterfield, has a background in Mexican food, too, he said.
"I started my career in Richmond in the 1970s at a Mexican restaurant called C.C. Chicanos," he said. "And I've also worked at Chi-Chi's, so I've got a root in the cuisine, not that Casa del Barco is going to be like either of those."
Healy is seeking about $450,000 in financing but says he is hoping to avoid going through the Small Business Administration this time — although both of his Boathouse restaurants were started with SBA-backed loans — because those loans can come with added fees. He is in discussions with several banks for the project, he said. The total investment will be $850,000 to $1 million, Healy said.
"The financing is always a challenge, unless you are independently wealthy," he said. "But I think that things have improved with the banks to the point where I don't think it will be necessary to use the SBA."
The restaurant will be Healy's second endeavor with WVS, the developers of Rocketts Landing and the developers of the $35 million mixed-use project at the former site of a Reynolds plant on the north side of the James River. (And across the street from a BlackFinn restaurant that closed recently).
Healy said he was excited when they approached him about a restaurant at their development at Reynolds North, which has been dubbed "the Locks."
Richard Souter, a principal at WVS, said he was excited to land a new Healy restaurant, especially given the success of the Boathouse at Rocketts Landing.
"He's a quality operator," Souter said. "From a landlord's perspective, if you can have a guy like that as a tenant, it's a huge advantage."
The Locks is a 50/50 partnership between WVS and Fountainhead Properties. The developers closed on the $35 million deal in March after a year of haggling with lenders, eventually securing financing from the Virginia Housing Development Authority. (You can read more about that here.)
The specific building is called the Italianate building, and its 20 apartments will be finished in November and will launch along with the restaurant, Souter said. The building will have seven two-bedroom and 13 one-bedroom apartments.
The construction on the other three buildings at the Locks, with 154 more one- and two-bedroom apartments, will be completed between January and March, he said.
Having the restaurant timed with the completion of the apartments will help attract tenants, Souter said.
The restaurant is "one of those amenities that we think will be attractive to our demographic," he said.
Below is a rendering: