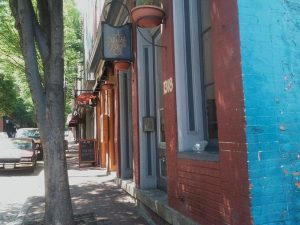 A catering company in Shockoe Slip is closing after 27 years.
A Moveable Feast will close its doors at the end of July.
Owner Linda Marcuse said  increased competition and a tough economy drove her to close up shop.
"When I started in 1986, there were maybe three other catering businesses in Richmond," she said. "Now there are maybe 50. I feel like the supply has increased but the demand has diminished."
Marcuse said the past four years have been hard. Some big lunch customers, including government offices, have stopped ordering because of budget cuts, she said.
"The past four years have felt like starting over," she said. "When you've been in business for 27 years, starting over is exhausting,"
Marcuse said she also needs to spend more time with her family. Despite the rough patch during the last four years, Marcuse said she's sad to see company close.
"I'm going to miss Shockoe Slip," she said, "and I'm going to miss all my customers tremendously."
Developer Tom Papa, who owns the building at 1318 E. Cary St., is also sad to see A Movable Feast move on.
Marcuse "has been a tremendous part of the community for 27 years," said Papa. "We will miss her, and we wish her the best in the future."
Papa said that he would look for another tenant for the roughly 1,500-square-foot storefront, but that the next step is a renovation.
"She's been in there for 27 years," he said. "The space needs some attention, so we're looking to do a total rehabilitation."
The building is next to the proposed location of the new First Freedom Center hotel project. BizSense reported in May that Apple REIT was in the final stages of getting a special-use permit for the project.
City records show that the hotel project will go to the planning commission July 2 and go up for final approval from city council July 9.