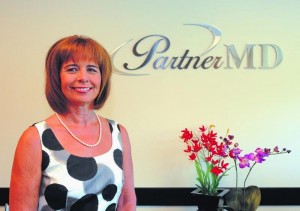 It's been almost a year since Linda Nash and her company PartnerMD struck a deal to be acquired by the investment arm of Markel Corp.
The Richmond insurance giant was betting that Nash's locally based concierge medical firm would continue to grow its high-end brand of care, which targets a niche audience of executive types and their families.
Nash, 57, founded PartnerMD in 2003 to provide patients access to around-the-clock attention from their doctors — including getting their doctors' cell phone numbers — in exchange for a membership fee.
The company also specializes in selling executive physicals to many of the area's top companies that want to make sure their top brass are in tip-top shape and corporate wellness plans to encourage healthy lifestyles among employees.
What started as a company with one doctor and a few dozen members now has more than 66 employees, thousands of paying members and almost a dozen physicians on staff.
Now, with the help of Markel's deep pockets, Nash and PartnerMD are in the early stages of an expansion plan that will target other markets where corporations and their executives are plentiful.
BizSense caught up with Nash to find out where the company wants to go and what it's like having access to the Markel coffers.
The following is an edited transcript.
Richmond BizSense: So you're in growth mode. What markets will you look to hit?
Linda Nash: In less than two weeks, we're adding our second physician in McLean, Va. In October, we're adding a physician in Ashburn, Va. We are going to be adding an office in Greenville, S.C., in January, and we're in very active discussions with physicians in Raleigh, Greenville and Charlotte, and to open a couple more offices in the Northern Virginia, Maryland suburbs. We're also looking at Charlottesville.
RBS: How do you choose new markets for expansion?
LN: We first look at how many primary care internal physicians there are in a market and how many people are in that market. And then we overlay income and a variety of demographic material. Then we start looking at neighborhoods to determine whether they have the resources [to be a PartnerMD member] and then find locations near the major business hubs.
RBS: It's been a year since the Markel deal. How has it played out?
LN: They [Markel] do what they say, and they leave us alone to be successful to run the company but are there to provide guidance and financial backing — and to help us think through important difficult decisions.
RBS: Did you have reservations about getting tied in with a public company? Or was there anything that was promised during the initial discussions that might have turned out differently?
LN: I had sold a series of companies to a public company before, and it did not go nearly as well. There were a lot of promises made that weren't delivered. This has been the opposite of that experience for me as an entrepreneur.
RBS: So do you still feel like an entrepreneur?
LN: This is still my company, but I know have a larger vision and can expand more quickly and not focus on the organic growth that was impeding us getting a regional presence.
RBS: How has the pressure of running a business changed, knowing that Markel money is behind you?
LN: The pressure for me is a lot different and better than when I was running my own company. One thing the Markel leadership tells me is "don't be afraid to make a mistake." When it was my own company and my own dollars at every point, I was afraid to make a mistake, because I was the bank. That has taken significant pressure off.
RBS: Are there any numbers you can share to illustrate the company's growth?
LN: I probably can't share anything on revenue because of the public company angle. Our growth has been very steady. We acquire about 60 to 65 new patients a month. Our executive physical program has continued to grow as well. We do over 200 executive physicals per year. We started 2003 with one physician and 40 patients. Today we have 4,300 members.
RBS: How big do you want PartnerMD to become?
LN: Eventually we would like to be the premier concierge membership, medicine and corporate health company in the country. I can't tell you how fast that will happen or the exact way it will happen. We have set our sights first on a significant regional footprint and then a national footprint.
RBS: What's your day-to-day routine like, and how has it changed with Markel being involved?
LN: The keyword is there is no routine. It's a busy, busy life. I do a lot of work with my executive team on the business strategy, on planning out the growth. I'm still very active in the doctor recruiting. It's a big decision for these physicians, and I really want to be very involved in that. One way we could grow too fast is to not pick the right physicians.
RBS: How are the doctors compensated?
LN: Our doctors are employed physicians. They are highly incented to grow their panels and retain the customers they have. As they grow their panels, they are able to receive some more compensation.
RBS: Is one of the perks of running a company like PartnerMD that you have access to this high-end medical care?
LN: Oh, absolutely. It's a perk for all of our employees. Each employee has a membership, and the physicians have a family membership.