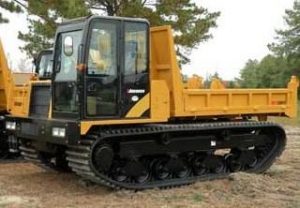 Hanover County landed two manufacturing plants this month with deals that filled 50,000 square feet of factory space and will create 50 jobs over three years.
The county announced Tuesday that Morooka America and Virginia Steel Specialties are up and running, building heavy-duty construction vehicles called rubber track carriers.
The two companies are part of the Richmond Group, an Ashland-based holding company for construction-related firms.
"From the economic standpoint, it's highly skilled labor of manufacturers," said Hanover County Business Manager Tommy Miller. "It's 50 well-paying jobs with benefits for the county."
The deal was helped along by incentives from the Virginia Jobs Investment Program that will give the Richmond Group funding for recruitment and training of employees.
The Virginia Economic Development Partnership and the Greater Richmond Partnership worked the deal, along with the county.
Morooka America will build two models of Morooka rubber track carriers, which Richmond Group's Ken Byrd described as dump trucks that roll on rubber tank treads. A news release from Gov. Bob McDonnell estimated a total output of about 100 machines annually.
Virginia Steel will be responsible for manufacturing the vehicles' steel frames and most of the metal components. Morooka America will be in charge of actually assembling the carriers.
The Richmond Group founded Morooka America, which operates under a licensing agreement with Japan-based Morooka Company. The Hanover factory will be the first Morooka-associated production plant in the United States.
Morooka America occupies a 30,000-square-foot building at Washington Highway, and Virginia Steel Specialties has a 20,000-square-foot location on Old Richfood Road, Byrd said. Both factories began operations July 1.
Byrd expects that Morooka America will grow to about 30 employees and that Virginia Steel will top out at about 20. They currently have 20 employees between them.
The Richmond Group has been distributing Morooka parts and machines in the United States since 2003.
The move made sense for a couple of reasons, Byrd said.
"World demand [for Morooka America products] is going up," he said. "And the dollar is a little weak against Japanese currency now, so it actually makes some economic sense to manufacture these in the U.S."
Bringing factory work to America was a point of pride in the deal.
"We're brining manufacturing back to the United States," Byrd said. "This is a product that has been built in Japan for 54 years, and we're happy to bring some of that over."
Byrd said they settled on the two locations because Hanover is, as he put it, a "business-friendly county." He cited the county's tax structure and the location's proximity to Interstate 95 as motivating factors.