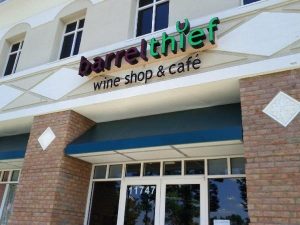 This story and the original headline, "Barrel Thief looks out for No. 1," incorrectly referred to  Barrel Thief's Patterson Ave. store as its original location. Patterson Ave. is the second Barrel Thief location; Short Pump was the original location and is shutting down.
A local wine shop is shutting down its Short Pump location after five years in business.
Barrel Thief, which will continue to operate its original second location on Patterson Avenue, will close its store at the Shoppes at Westgate on Saturday. It opened the second location in fall 2007.
Owner Ross Mattis emailed his customers early Wednesday to announce the closing.
"With our lease coming to an end and my impending move with my family to my hometown of Providence, Rhode Island, it was decided that we would put all of our passion for great food and wine into the Patterson location," Mattis wrote.
Mattis told BizSense in a telephone interview that sales were about the same at both locations but that the rent in Short Pump made it hard to keep the store open.
The closing was first reported by DowntownShortPump.com.
To help close out the location, Mattis said he was offering his entire Short Pump stock at 20 percent off.
Jim Ashby, a broker with Cushman & Wakefield | Thalhimer who handles leasing for the Shoppes at Westgate, said he was sorry to see the store close.
"It stinks to see Barrel Thief go," Ashby said. "I think the local wine stores have been impacted by the economy. I think people have, instead of going to boutique wine stores, have been buying cases at Martin's and Kroger. I also represent West Park, and we lost West Park Wine and Beer. Their owner even said that they were impacted by Martin's moving in."
Ashby said the space being vacated by Barrel Thief is 2,300 square feet and will be available Aug. 1. Westgate is anchored by Starbucks, Panera and Bertucci's.