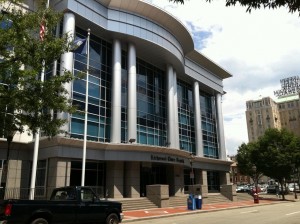 The Richmond Times-Dispatch is looking beyond the news business to fill unused space in its downtown headquarters.
Just weeks into its new life as a piece of Warren Buffett's empire, the Times-Dispatch has begun leasing space to outside companies, the first of which moved in last week.
It's part of what the newspaper is calling 1E, an initiative that will look to identify a handful of local startups to move into a 4,000-square-foot space on the first floor of the Times-Dispatch's 156,000-square-foot Franklin Street home.
The goal, according the paper, is to foster an environment in which the startups can operate, potentially work together and perhaps even help the paper find new ways to navigate in the digital age.
Times-Dispatch Publisher Tom Silvestri doesn't want to call 1E an incubator or an accelerator, common terms used to describe such shared spaces for fledgling companies.
"I'm sensitive to labels," Silvestri said. "This is basically an initiative to allow us to welcome in entrepreneurs and maybe learn how they exhibit entrepreneurship."
The idea is still being defined, including what kinds of companies should be considered, and what its ultimate purpose will be, other than to generate extra revenue for the paper.
"We'll spend the next quarter getting down in the weeds about process and procedures and assess who else might come in," Silvestri said. "In spirit, it's an initiative. All of us in business need to try different things."
Incubators typically provide free or drastically discounted rent and other services for up and coming companies.
Floricane, the first tenant of 1E, is paying rent for its 500-square-foot share of the space.
Floricane founder John Sarvay said he began a conversation with Silvestri about moving his company from a smaller space on Cary Street last April.
"It's actually a little more expensive" than the company's previous space, Sarvay said. "But we're tripling our footprint in a sense."
Floricane, founded four years ago, provides consulting services to organizations such as Bon Secours, Virginia Credit Union and the Library of Virginia. In addition to being the first tenant, it will help the Times-Dispatch develop the criteria for tenancy and to identify potential candidates for 1E.
"Tom and his team were looking for a way to maximize some real estate there," Sarvay said. "He invited Floricane to be what we are describing as an anchor tenant in a pilot space and put together a process to select another six to eight businesses. The proof will be in the pudding over the next year, whether it takes hold."
Silvestri announced the plan July 29 in the Times-Dispatch.
The first-floor space was formerly occupied by the paper's editorial department, which has relocated to the fourth floor.
The Times-Dispatch is not the first newspaper to open its doors to outside companies. The Philadelphia Inquirer, the Knight Foundation and others launched the Project Liberty Digital Incubator in 2011. Read more about its progress here.
The Times-Dispatch and Floricane's discussion for 1E was held up by the deal that sold the paper and 62 of its sister publications from Media General to Warren Buffett's Berkshire Hathaway last month.
With the deal done and the Times-Dispatch part of Berkshires's World Media Enterprises, Silvestri said the paper is free to make a go of it.
"We have support from World Media Enterprises to go forward. They are very curious about our experience," Silvestri said.
As more companies potentially lease space, Sarvay said there would be other issues for the Times-Dispatch to consider than simply rent rates and potential collaboration.
"The other big question on the table [is] how do you maintain some integrity in the space?" Sarvay said. "From a journalistic integrity perspective, you want to make sure Floricane doesn't end up on the front page [of the Times-Dispatch] too often."
Silvestri said the newspaper has plenty of checks and balances in place to prevent any such concerns.
"I don't think if you're a tenant you're going to end up on page one," he said.