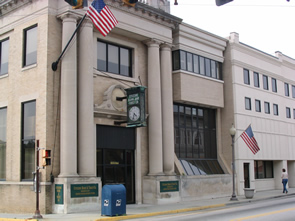 An out-of-town bank is looking to build a new branch in a part of town that's crawling with competition.
Citizens Bank & Trust, headquartered in Blackstone, about 60 miles southwest of Richmond, is in the early stages of an application for a new branch in Chester.
If approved by regulators, the branch would be built from scratch on undeveloped commercial parcel near Iron Bridge Plaza Shopping Center off Iron Bridge Road/Route 10.
Citizens Bank & Trust President and Chief Executive Joe Borgerding declined to comment until the bank is further along in the regulatory approval process.
Should it get the go-ahead, Citizens' new branch would face plenty of competition. Within about a two-mile radius of the site are branches for SunTrust, Wells Fargo, Bank of Southside Virginia, C&F Bank, Village Bank, Bank of Virginia and Virginia Commonwealth.
The site of the proposed branch, according to Citizens' application with the Federal Reserve System, is at Route 10 and Oliver's Way, adjacent to the DMV branch off Iron Bridge.
It would be Citizens' fourth branch in the Richmond market. The bank's three local branches are in Colonial Heights, Chesterfield and Amelia and control approximately $48 million in local deposits, or about 0.07 percent of the total market share, according to the most recent figures from the FDIC.
The bank has 12 branches across Central Virginia and is part of Citizens Bancorp of Virginia, a $333 million publicly traded holding company. The bank turned a profit of $834,000 in the second quarter. It was founded in 1873.