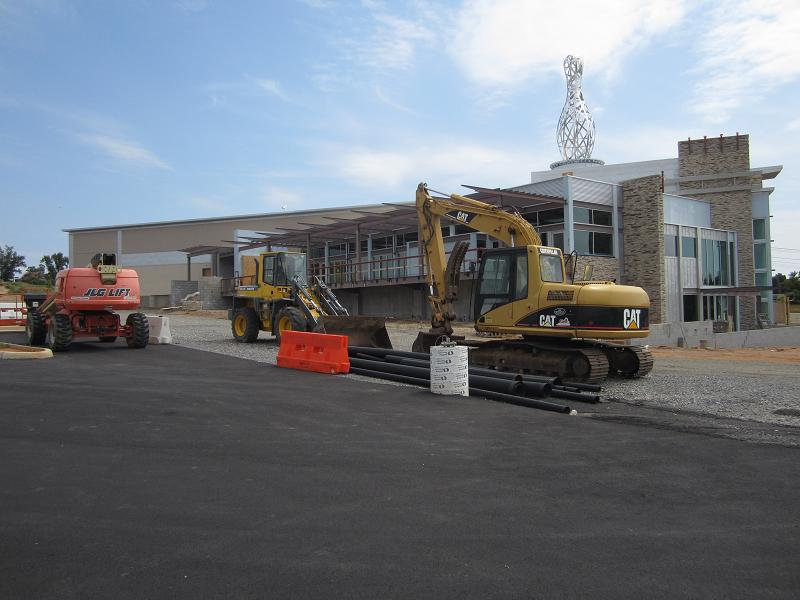 Mark it, dude: A $21 million bowling and entertainment complex is on track to open in November.
When Uptown Alley opens, the 60,000-sqaure-foot, 40-lane bowling alley/entertainment complex will be one of the biggest indoor entertainment facilities in Virginia.
The man behind the project, Steve Uphoff, is getting geared up for the grand opening. It will be Uphoff's second Uptown Alley location, and he has been working on the project at Commonwealth Center Parkway and Brad McNeer Parkway off Hull Street Road since he bought the land in January 2008.
Uphoff, who founded the Uppy's convenience store chain, caught up with BizSense last week to give us an update on Uptown Alley and to talk about what's next for his Uphoff Ventures, including a massive apartment project he has planned near VCU.
Richmond BizSense: How's Uptown Alley coming along?
Steven Uphoff: We're finishing phase one of two phases, and that is the entertainment complex portion. The second phase is going to be a hotel and some complementary businesses. It's going to be awesome.
RBS: So you're on track?
SU: Oh, yes. We just installed our 29-foot [rooftop bowling] pin last Monday, and it's four inches below our maximum limit. Our contractor, Taylor & Parrish, has done a phenomenal job getting us in on budget and on time. They are on track to deliver it to us on Oct. 23. We'll come in, do our training and open on Nov. 15.
RBS: You moved ahead on this in the middle of a bad recession. Was it hard to line up financing?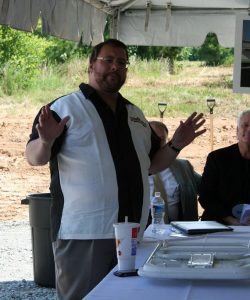 SU: It was a challenge at first. I mean, you walk into a bank and say the words "real estate," "development" and "entertainment facility" in the same sentence, and most of them will show you the door.
In fact, when we moved ahead with our Uptown Alley in Phoenix, one of the hardest-hit markets in the country, we had to pay cash for it. But they've seen what we're doing out there, and they are paying attention. We've exceeded our expectations two times.
RBS: Did you finance the Chesterfield location?
SU: We did. We had to put in more equity than we would have liked. But we have a great relationship with Sonabank. They were quick to jump on and finance the construction. And Fulton Bank has the underlying real estate loan. Both banks have been great for us.
RBS: What's your competition for Uptown Alley? Movie theaters?
SU: Actually, we like to be close to movie theaters. We complement each others' businesses. Out in Chesterfield, we are near one of the best theaters in the area, Commonwealth 20.
Especially in the current economy, we're seeing people chose more and more to stay close to home for their entertainment. People want entertainment close and at a reasonable price. I think we deliver that.
I think our competition is more the older bowling alleys, but I'm not sure they are even much competition, because we do so much more.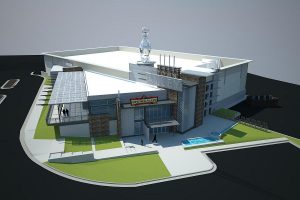 RBS: Who's going to go to Uptown Alley?
SU: The demographics are amazing. We've got two restaurants, two bars, rooms for birthday parties, 40 lanes. Out in Phoenix, you should see it. We have groups of guys coming in to watch the Olympics, and soon they'll be watching football. We have groups of women coming in and drinking martinis. We have kids.
It's actually fun to see people migrating to various parts of the facility. We think it's going to be very successful.
RBS: What's next for you and Uphoff Ventures?
SU: We'll be focusing on our apartment project at Belvidere and Grace in Richmond. We'll be looking at other markets across the country for Uptown Alley. And we're always looking for new projects right here in Virginia and the Richmond area.