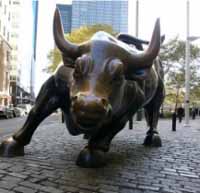 Altria
Nabil Sakkab, a director, sold 5,000 shares at $35 per share or $175,000. Sakkab still owns more than 20,000 shares.
Altria Group issued $1.9 billion in bonds due in 2022 and $900 million of bonds due in 2042. The notes are guaranteed by Philip Morris USA. Citigroup Global Markets, Deutsche Bank Securities and J.P. Morgan Securities worked as underwriters on the bond deals and also purchased some of the bonds.
Brink's
Ronald Rokosz, a company vice president, sold 3,946 shares at $22.84 per share or approximately $90,000.
CarMax
Natalie Wyatt, principal accounting officer, exercised options for 2,233 shares at $11.43 per share for a total of about $25,000. She then sold 3,518 shares at market price for a total of approximately $101,000. She still owns more than 3,000 shares of CarMax stock.
C&F Financial
CFO Thomas Cherry exercised options for 2,000 shares at $22.75 per share. He then sold 2,000 shares for approximately $80,000.
Dynex Capital
Issued Holdings Capital Corp., a Dynex subsidiary, entered into an agreement with Wells Fargo Bank that will allow it to buy and sell commercial mortgage-backed securities to and from the bank. The agreement has a borrowing limit of $200 million.
James River Coal
The company received five new surface mining permits that allows it to extend existing operations for several years. The mines include the Freelandville mine, its Log Creek Complex in Indiana, the Stacy Branch mine in Central Appalachia, the Wolfpen mine in Kentucky, and the Canebrake mine in West Virginia.
Markel
Debora Wilson, a director, sold 100 shares at $434.10 per share, for a total sale of approximately $43,000. She still owns more than 1,000 shares.
Nora Crouch, the company's controller, sold 181 shares at $434.86 per share for a total of $78,000. She now owns fewer than 1,000 shares.
Universal Corp.
COOKeith Brewer sold 3,501 shares for $46.77 for a total of $163,000. He still owns 77,000 shares.