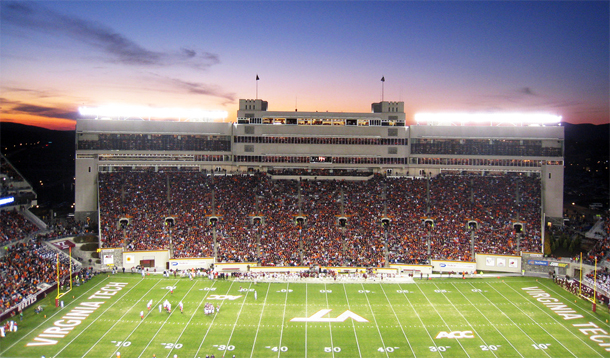 Six days from now, 66,000 maroon-and-orange-clad Hokie fans will fill Lane Stadium.
Metallica's "Enter Sandman" will blare through the speakers, and Frank Beamer, Virginia Tech's $2 million-a-year head coach, will lead 85 athletes whose scholarships average $30,000 per player per year onto the field.
And as the team runs and tackles its way toward glory, the cash registers will sing a joyous victory song.
College sports are a $300 million a year business in Virginia. During fiscal 2010-11, $40 million of that came from Virginia Tech football.
Hokie football is the envy of the state: turning a $15 million profit on football in 2010-11, according to data reported to the NCAA, with money coming in from tickets, TV revenue, donations and apparel sales. It was the largest profit Tech football had made since at least 2000, when football brought in a $6.5 million profit. The University of Virginia, meanwhile, brought in less than $50,000 in profit for the same season. William and Mary perennially loses money on football. At that school, known more for academics than gridiron prowess, students pay more than $1,000 per person to support the athletic department.
At Tech, it's not just the legions of Hokie fans who keep an eye on football. The tennis, wrestling and softball programs have a vested interest in how much the Hokies bring in on the gridiron.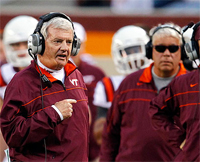 The athletic department's bills aren't paid on a sport-by-sport basis, said Lisa Rudd, Virginia Tech's assistant athletic director for financial affairs. All athletic department revenue goes into one pot and is used to cover expenses.
In 2010-11, football made up about 60 percent of the department's revenue stream, so a full Lane Stadium is good news for the indoor track team.
"I bring in enough football ticket revenue and ACC conference revenue that, between that and the basketball revenue and multimedia revenue, it supports all the sports," Rudd said.
But not all programs are in the black, and when a team or an athletic department doesn't reach profitability, it must increasingly rely on student fees and donations.
At Virginia Tech, if football revenue were to fall off, cuts would have to be made. And because of its revenue producing potential, Rudd said football would likely stay off the chopping block. Instead, non-revenue-generating sports such as swimming and diving would have to absorb the cuts.
Amy Perko, executive director for the Knight Commission, a college sports watchdog group, said heavy investment in football and basketball is a nationwide trend. But when these two sports can no longer carry the non-revenue sports, schools make cuts in Olympic sports to bail out the higher profile programs.
"With millions of dollars coming into TV contracts in Division I, the emphasis is placed on winning and the elite athlete more so than providing a broader range of opportunities," she said. "Unsustainable spending trends have resulted in some teams being cut, so opportunities have been reduced among the schools that have the larger budgets."
Just look north to the University of Maryland. After sinking about $175 million into stadium projects over the past decade, the Terrapin football and basketball programs saw revenue plummet. In July, Maryland cut seven varsity sports to bring expenses back in line with revenue. Clemson, Rutgers, UCLA and Washington have also dropped sports in the past decade, with swim teams a common casualty.
In Virginia, Tech has put more than $100 million into its athletics facilities over the past 12 years. The school is looking at a debt commitment of about $90 million over 18 years.
And the Hokies aren't the only team in the state on a spending spree. The University of Virginia added a $130 million basketball arena and expanded its football stadium in the past decade.
BizSense analyzed three Virginia public schools — Virginia Tech, the University of Virginia and William and Mary — as they look to improve their performance on the field and court, often spending more and more to do so. As with any business, the programs run the risk of becoming overloaded with expenses and debt. When that happens, like any business, they have to cut.
Milking the cash cow
Virginia Tech's football program has been a cash cow for more than a decade. The football Hokies generated almost $40 million for the 2010-11 fiscal year and have sold out every home game since 1998.
Not surprisingly, Tech's two largest athletic department projects from the past decade centered on the football program. Tech added 11,000 seats to Lane Stadium's south end zone ahead of the 2002 season and expanded the stadium's west side in 2006.
Between the two projects, Tech took out about $79 million in loans. Rudd, the assistant athletic director, said they would be repaid using contributions pledged over the loans' first five years as well as club seat sales, suite fees and general ticket revenue.
Both payment plans were frontloaded to coincide with the early pledged donations. In the four years after the south end zone project began, Tech made yearly debt service payments of $3 million on the expansion. Now the yearly payments are down to $1.4 million.
The west end zone payment structure followed a similar model, with $6 million payments for the first few years after the section opened. The normal payment on the project is about $3.2 million.
Rudd said safeguards were put in place to prevent a Maryland-style collapse.
The debt repayment model assumed only 67 percent capacity in club seats and luxury suites. This season, Rudd said, the suites have sold out, and club seats are almost gone.
But just in case ticket sales go south, Virginia Tech is required to hold a certain amount back to cover debt service.
"We have to have three times the debt payment in our reserve," she said.
'It's no fun to go watch a losing team'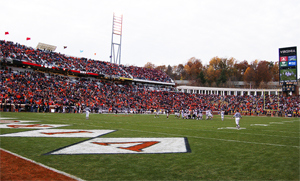 At cross-state rival UVA, the Wahoos are looking at more than $100 million in debt for stadium upgrades.
Expansions to Scott Stadium and the new John Paul Jones Arena have the Cavalier athletic department in $130 million of debt to be paid off by 2025, said executive associate athletic director Jon Oliver.
Oliver said the projects were warranted.
"You look at capacity and demand from the fans," Oliver said. "And you build a building to handle your fan support and your fan base."
At clam-shaped University Hall, where the Cavaliers played basketball until John Paul Jones opened, there was a waiting list for tickets some years, Oliver said.
That hasn't been a problem at John Paul Jones. Ticket revenue has dropped steadily from the opening season up to the 2010-11 season. According to NCAA data, the 2012 average attendance for UVA home basketball games was 10,522. That's 22 percent lower than five seasons ago.
Football attendance has also dropped. Last season, the Cavaliers drew 47,940 fans per game to their 61,500-seat stadium, after drawing more than 60,000 fans in 2005. For the 2010 season, ticket sales were just over $8 million, $2.8 million less than the program's peak in 2008.
Those sales left UVA football with a profit of $36,283 for 2010, the lowest take since 2007, when the team lost almost $3 million.
Virginia football has never pulled in the mega-profits Virginia Tech football has, at least not since 2000. Over that span, the best fiscal year for UVA football was 1999-2000, when the program hauled in a $4.75 million profit, around one-third of Tech's haul in 2010-2011.
Keith VanDerbeek, associate athletic director for business operations, attributed the lost revenue to a slow economy and a subpar product.
"It's no fun to go watch a losing team, frankly," VanDerbeek said.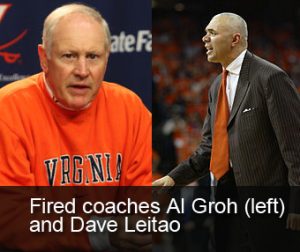 In an effort to right the ship, UVA in 2009 fired men's basketball head coach Dave Leitao, who was at the helm for just three years after the school fired the previous coach, Pete Gillen. Also in 2009, the university fired football head coach Al Groh.
But Groh and Leitao's departures cost the school millions in severance. In 2010-11, Groh and Leitao received a combined $2.1 million, even as the school paid replacement coaches Mike London and Tony Bennett another $3.8 million.
London and Bennett also took over losing teams that play in buildings that are far from paid for. Compounding the problem, fundraising to pay debt service on John Paul Jones has dropped off.
In 2010-11, the UVA athletic department received about $34.5 million in athletics contributions from the Virginia Athletic Foundation, the athletic department's independent fundraising arm. Of that, $8.7 million was tapped for capital expenses and debt service for John Paul Jones Arena.
Two years earlier, the Virginia Athletic Foundation contributed more than $10 million to pay down the John Paul Jones debt, and in 2007-08 the foundation gave almost $20 million for stadium debt service and capital expenditures.
VanDerbeek said most foundation money came in 10-year pledges, which began in fiscal 2005-06. Unlike Virginia Tech, UVA's debt payments were not front-loaded. When the pledges expire, VanDerbeek said suite sales will carry the bulk of the debt payments for Scott Stadium and John Paul Jones Arena, but the school will draw from a variety of sources, including conference revenue, ticket sales and student fees.
Student support, in dollars and cents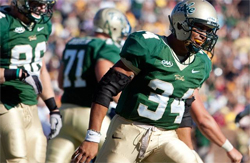 Farther east on Interstate 64, William and Mary plays Division I football without a 60,000-seat stadium, a steady stream of booster money or a chunk of conference revenue rolling in each year.
But the school still has to pay for full-tuition scholarships, travel, stadium upkeep and coaches' salaries. As a result, Tribe football never generated enough revenue to cover its expenses during the 13 years between 1999 and 2011.
Instead, the school relies on student fees to pay for football, basketball and the rest of its athletic programs.
William and Mary will charge each student a $1,485 athletic fee this year. Last year, with the same student fee, W&M collected about $10 million, or about 45 percent of its athletic department revenue. (UVA's athletic fee was $657 last year, and Virginia Tech charged a statewide low of $260.)
William and Mary aims for equal amounts of generated revenue and student fees.
"Our goal is 50 to 51 percent [in student fees]," said Dan Wakely, assistant athletic director for business affairs. "Usually it ends up being a little higher. Usually it ends up somewhere between 50 and 55 percent."
William and Mary's 2010-11 numbers leaned toward generated revenue because of a $2.8 million one-time alumni donation that paid to build a new stadium to house both soccer and lacrosse. In the previous four years, William and Mary averaged $3.1 million in total athletic contributions, and student fees made up 50.5 percent of total revenue.
The funding model hasn't caused any trouble at William and Mary, Wakely said.
"The school has decided that this is the kind of athletic department they want us to have, and that's what it takes to run it," Wakely said. "No one has ever come to me and said 'we need to reduce the student fee.'"
But William and Mary, with its comparatively small budget, isn't looking to throw millions more into athletic facilities any time soon.
"I think we're staying where we are for now," Wakely said. But "two years before [the soccer field] got built, we probably didn't expect that either."
Looking for a payday
With lower expenses and student fees making up the bulk of the budget, William and Mary is under less pressure to win to keep money coming into the program.
For Virginia Tech, riding its national reputation as a football powerhouse, and UVA, which has struggled in the past five years, on-field success is much more important.
Last year brought signs of improvement for UVA football and basketball. Although ticket revenue figures are not yet available, Virginia basketball drew almost 400 more fans per game last season than in the previous season.
The football team also saw a 2,481-person increase in average attendance. VanDerbeek said 2012 UVA football season ticket sales have already exceeded last year's mark.
The Cavaliers have started to look better on the field, too. Mike London's bunch went 8-4 in the regular season and earned the first Virginia bowl bid since 2008.
UVA also received a $1.1 million check from the ACC for their trip to the 2011 Chick-fil-A Bowl.
But a bowl appearance is no guarantee of a payday. VanDerbeek said the school spent more than $800,000 to transport the team, band and other support staff to Atlanta for the game. School records also show that Mike London and his coaching staff made $277,377 in bonuses for the bowl appearance.
As it turns out, losing is expensive, but winning can be, too.