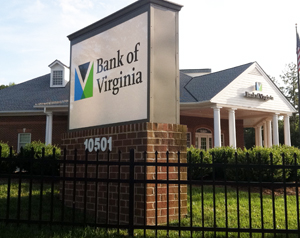 For the second time in two years, a Midlothian bank is getting a shot in the arm.
Bank of Virginia on Wednesday received $3 million in fresh capital from Cordia Bancorp, a group of Virginia bankers and investors that took majority control of the bank in late 2010.
The bank said it would also look to raise an additional $2 million from its common stockholders and would attempt to restructure by converting all the bank's shareholders into Cordia shareholders.
Jack Zoeller, chief executive of both Cordia and the bank, said the extra capital will support additional loan growth and will pad the bank's capital ratio, a measure of a bank's health and an indicator regulators watch closely.
"This will allow us to stay well capitalized while growing, and it will make it easier to raise additional capital," Zoeller said.
In the latest investment, Cordia purchased 4.1 million shares at $0.72 per share.
"It was led by the Cordia founders and directors and also other investors who have been with us from the beginning," Zoeller said. "It's an insider's round."
An offering for common shareholders is expected in the third quarter for 2.79 million shares also at $0.72 per share.
"That's just fairness and common sense to give other shareholders the same opportunity at the same price," Zoeller said.
Cordia took a majority stake of the bank and brought in new leadership after it invested $10.3 million in December 2010.
The bank at the time was struggling with losses, dwindling capital levels and had been under a written agreement with regulators.
But recently Bank of Virginia has had two consecutive quarters of profitability after almost three years of losses. The $170 million bank reported a profit of $490,000 through the first six months of the year.
"It always looks good to future investors if existing board and management has invested again. And this is a statement of our belief and expectation for the company," Zoeller said.
The move to bring all the bank's shareholders under the Cordia umbrella is an attempt to simplify its corporate structure and potentially make it easier to raise capital and go after mergers or acquisitions.
Cordia must first receive approval to be listed on NASDAQ, where the bank is currently traded under the symbol "BOVA."
"Cordia will step into the shoes of what's now Bank of Virginia [on the stock market]," Zoeller said.
Shareholders of both Cordia and Bank of Virginia must first approve the plan.