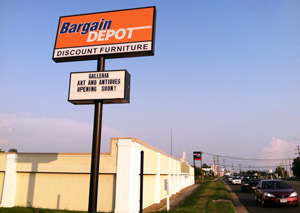 An antiques dealer at Libbie and Grove is packing up shop and heading to West Broad Street for something a little bigger.
Jim Strickland, owner of Elephant's Toe Antiques at 5808 Grove Ave., is moving his store to a 50,000-square-foot building at 7800 W. Broad Street.
"The rent was too expensive at Libbie and Grove, and you can get three times the space out on West Broad for less," he said.
The new venture, located in the former Bargain Depot, is called the Galleria on Broad. Elephant's Toe will take up 25,000 square feet, and the rest is being sublet to other businesses.
"It's anchored by Elephant's Toe, but it also has some designers, an art gallery and a consignment store for the SPCA," Strickland said. "All the profits will go to the SPCA, and most everything is donated."
The current Elephant's Toe is about 7,000 square feet, but business has been tough in recent years.
"Sales have been suffering in the home industry for four years," he said. "It's the economy — it's that there are no new homes being built and there are not many homes being bought and sold, so all that takes a toll on businesses that sell items for the home. If the business isn't enough to support the high expenses of Dominion power, the rent, all of those things, then you have to make better business decisions."
Strickland said he is selling through his inventory at the store at prices of 30 to 40 percent off. His lease expires October 31.
The Galleria opened last Saturday. Strickland is in talks to lease 5,000 square feet on the lower level of the store for a furniture and restoration business.
The owners of the building at Libbie and Grove, Fred and Peggy Larmore, didn't return a call for comment by press time, but the space is for lease. The couple, doing business as Castlewellan LLC, purchased the building for $2,365,000 in 2006, according to city records.