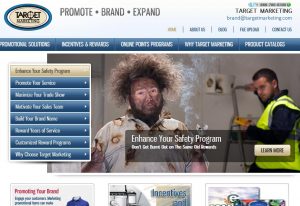 A Hanover marketing company is settling into its new $2 million home.
Target Marketing, which creates promotional products and reward campaigns, recently bought and renovated a 30,000-square-foot building in Lakeridge Industrial Park.
The new building brings the 25-year old company's operations under one roof, said company president Jay Nathanson.
"We wanted to have everything in one location," Nathanson said. "It got to a point where is just wasn't cost effective to have a warehouse in one location and our office space in another."
Nathanson said the company, which has 27 employees, would look to add about 15 new positions over the next two years.
"These new hires are really going to be across the board," Nathanson said. "We're going to be looking for new graphic designers, warehouse folks, salespeople and administrative support staff."
Target Marketing financed upgrades to the building through BB&T. Nathanson said the company installed eco-friendly lighting and heating systems to cut down on utility costs.
Lakeridge Industrial Park is located in Ashland off Lakeridge Parkway and runs parallel to Interstate 95.
Tommy Miller, existing business manager for Hanover County Economic Development, said he was proud that Target Marketing decided to stay in the county.
"Hanover County has an aggressive outreach program toward existing businesses," Miller said. "I work with a group of about a dozen volunteers. We visit about 100 businesses a year to keep a pulse on what's going on in the community."