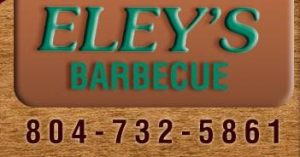 The former home of a well-known Petersburg barbecue joint is headed to foreclosure auction a year after it smoked its last pork shoulder.
Eley's Barbecue, at 3221 W. Washington St., closed last September after launching in 2006. But the property, which will be up for sale Sept. 27, has a history that goes back much further.
The site was originally home to King's Barbecue, an establishment known for its slow-cooked, pit-smoked beef and pork. King's opened in 1946 and operated continuously under different management for 60 years.
Richard and Evelyn Eley bought King's and changed the name to Eley's in 2006. After the restaurant went out of business, the owners defaulted on a $500,000 loan from Siena Capital and the building was foreclosed on, according to Sherri Parsons, a representative of Crenshaw, Ware & Martin, the Norfolk-based law firm handling the auction.
Of the three original King's locations, only the one at 2910 South Crater Road in Petersburg remains operational.
The 5,500-square-foot building up for sale next week has been vacant since Eley's Barbecue closed last year, and the property will be sold as-is.
Parsons said no potential buyers have expressed interest.
"We just started advertising for it, we expect to have some interest at the auction," Parsons said.
Parsons said she didn't have any information about the condition of the building, which sits on 1.1 acres.
The auction is set for Sept. 27 at 10 a.m. in front of the Petersburg Circuit Court building.