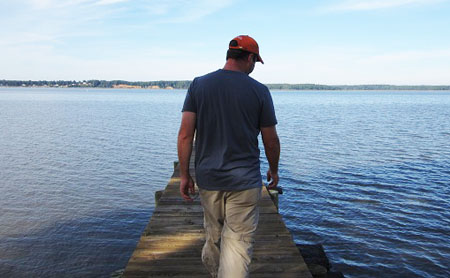 As the chief executive of Live Well Financial, Michael Hild trades complex financial products with Wall Street from his Midlothian office.
"That's what I do for money," Hild says. "What I do for my soul is Anderson's Neck Oyster Company."
When the trading floors fall quiet, Hild packs up with his wife, Laura, and drives his black Ford F-150 to his land in King and Queen County along a stretch of the York River. Hild is spending his weekends — and a large slice of his earnings from Live Well — on a startup he hopes will help heal the Chesapeake Bay and create a high-end brand of oysters that he can sell at a premium to local restaurants and foodies.
On a recent bright Thursday morning, Hild walked along his dock. At low tide, you can see his cages sticking just above the surface of the shallow riverbed. He pointed to the water.
"See how cloudy it is?" he asked. "It shouldn't be that way. When Captain John Smith was first sailing up and down these waters, he marveled at how clear the waters were. He could look and see 30 feet down."
Hild, 37, explains the impact oysters have on the bay and its tributaries like a man who's explained it a thousand times without losing an ounce of enthusiasm. As he puts it, oysters filter the water by feeding on the phytoplankton that makes the water look greenish-brown and cloudy.
The problem with cloudy water is that sunlight can't reach the floor — meaning that sea grasses, which feed ducks and shelter baby crabs and fish from predators, can't grow.
"The Chesapeake Bay is sick," Hild said. "It's not dead, but [it's] sick. And until you get oysters back in the water to filter it, the Chesapeake Bay will be sick forever."
And that's where Anderson's Neck comes in.
Hild's nascent oyster farm has 300,000 of the mollusks. He says each oyster filters as much as 50 gallons of water a day when fully grown. And, after tangling with no fewer than nine regulatory bodies over two years, he's about a month away from selling his first oysters to Richmond restaurants.
Online orders start at $85 for 36 oysters, Hild said, and FedEx will ship the oysters overnight. An order of 100 will run $150. For restaurants in the area, Hild said the company would have a refrigerated truck for direct deliveries.
Hild is still negotiating with restaurants on the wholesale price.
There are a few other Oyster farms around the Chesapeake Bay, including Chessie Seafood out of Wicomoco and Chincoteague Shellfish Farms.
A pearl in a stack of papers
Anderson's Neck is a two-mile stretch of land on the banks of the York River, about 300 total acres. Granted to Richard Anderson by the king of England in 1662, it was the ancestral home of one of Virginia's old families.
According to Hild, oyster harvesting was part of the area's culture from the earliest days of America.
But decades of over-fishing, sediment runoff and diseases introduced by foreign species of oysters have decimated the population that once filtered the water flowing to the bay.
Hild bought the land in 2010 after falling in love with the bay and its ecosystem on a bird-watching trip with his father to the Eastern Shore. His first idea was to buy a plot of land for conservation, and he came across Anderson's Neck.
Hild bought the property from a timberland investor who had hit some hard times.
"He was a couple weeks away from clear-cutting the place to pay the mortgage," Hild said.
In April 2010, the developer dropped by Hild's office at Live Well with a stack of documents and historical records concerning the property. Among them was a letter from the Chesapeake Corporation, which produced paperboard at a factory on the York River for decades throughout the 20th century.
The letter referred to a division of the company called the Sea-Rac Oyster Company, a massive oyster farm founded in 1938 after the oyster fishery on the river crashed.
"I went into full research mode," Hild said. "I read everything I could possibly lay my hands on about oysters and the Chesapeake Corporation. Eventually I saw that we could put the two together: We could find a way to monetize this enormous asset — the land — while preserving it and cleaning up the bay at the same time."
The Sea-Rac Oyster Company, which sold its oysters to the likes of the John Marshall Hotel and the Williamsburg Inn, closed in the 1940s. But Hild said the fact that they were farming oysters in the York River on a large scale inspired him to give it a shot.
Hild said he has put millions of his own dollars into getting Anderson's Neck Oyster Company up and running.
"Oysters were once a staple, and now it's been virtually eliminated from the American diet," he said. "Now it's something that you can splurge on now and again, but a dozen oysters might cost you $15 to $20."
Putting a premium on passion
Although the business is starting with 300,000 oysters, Hild has much bigger plans.
If things work out with regulators, Hild hopes to produce 15 million oysters. By next year, he wants to open a nursery to start rearing his own oysters, a key component in scaling the business.
To raise the oysters from seed, he's going to need electricity on the old plantation, something it doesn't have. To power the necessary water pumps, Hild is installing solar panels on the property and at the offshore nursery.
"This is an incredibly capital-intensive operation," he said. "But it's important to us that we do this in a sustainable manner."
They might be sustainable, but Anderson's Neck oysters will not be cheap.
"We're not trying to be the low-cost provider of oysters," Hild said. "We want to be the crème de la crème. But when people eat an Anderson's Neck oyster, they'll know that it was raised through our blood, sweat and tears using [environmentally friendly] practices right here on the York River. I think people will be willing to pay a little bit more for that."
Hild said his hope for the business is that it will pay for itself.
"We could have used our money for a house in Boca Raton or something, but why do that when you can put it into something you are really passionate about?" he said. "If we can make enough to cover costs and create some jobs while cleaning up the Chesapeake watershed, all the better."