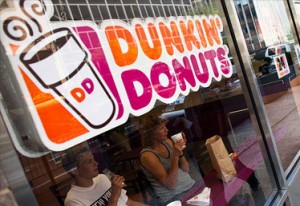 A national doughnut chain is opening its first store in the City of Richmond in Carytown.
Dunkin' Donuts is about to begin construction at the former 7-Eleven building at 11 S. Nansemond St.
"We took over that project at the beginning of this year," said Peter Vick, a broker with NAI Eagle who represented the landlord. "We were surprised by the lack of action it got early on. I think people were still trying to wrap their heads around the Fresh Market thing. And once people saw it was actually happening, we started to get a lot more traction."
Vick said his firm was seeking more than $30 per square foot per year in the 2,300-square-foot building.
"We knew that locals probably wouldn't go for it at that price, but we thought the corporate stores would come in a lot faster," Vick said. "We're really happy with Dunkin' Donuts though."
Brett McNamee, a broker with Divaris Real Estate, represented Dunkin' Donuts in the deal.
"We're looking in the VCU, Shockoe Bottom and Tobacco Row areas for more locations," she said.
City records show that Midlothian-based Fas Trac General Contractors has a recently approved permit for the build-out. The estimated cost of the work was about $85,000.
The store is corporately owned and not a franchise, McNamee said. There are four other Dunkin' Donuts locations in the greater Richmond area.
Dunkin' Donuts is following other chain stores into Carytown. Fresh Market opened last week, as did Petco and Panera, at the new shopping center at 10 Nansemond St.
Raul Cantu, owner of Nacho Mama's and head of the Carytown Merchants Association, said Carytown is in a transition.
"Every few years, Carytown changes and sort of reinvents itself," Cantu said. "This time we are getting the big boys to come play with us. They are realizing that Carytown is the place to be, and I think it's a good thing. It's good to see the vacant stores filling up, and it's good for competition."
Dunkin' Donuts will compete with the locally owned Dixie Donuts, which is on the other end of Carytown near the Boulevard.
A call to the Dunkin' Donuts corporate office was not returned by press time.
For more on the local market for sugarcoated fried dough, check out this piece about Country Style Donuts on Williamsburg Road.