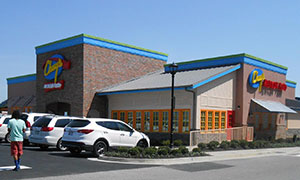 West Broad Village will soon be getting a taste of the Lone Star State.
Austin, Texas-based Chuy's, a Tex-Mex restaurant chain, has signed a lease on a parcel in the popular mixed-use development. The new restaurant will front West Broad Street next to Kona Grill and will be Chuy's first Virginia location.
The restaurant's plans were approved late last month by Henrico County.
Chuck Whittall, president of Unicorp, the Florida firm that developed West Broad Village, said Chuy's approached him about the deal.
"They heard that West Broad Village was such a wonderful place and how great the other retail tenants were doing and thought it was the right spot for them," Whittall said.
Chuy's has almost 40 locations across the South and Midwest. It opened its first location in Austin in 1982.
Michael Hatcher, Chuy's vice president of real estate and development, said the expansion to West Broad Village was part of a growth strategy to expand the chain up the East Coast. The company wants to open eight to 10 stores per year for the next few years, he said.
"We were acquired in 2006 by a private equity firm out of New York City, Goode Partners," Hatcher said. "At the time, we had eight stores. After that we took about a year and a half to put the mechanisms in place to ramp up for the kind of rapid growth we were looking to do."
Hatcher said that the key to growing the company was creating another hub outside of Texas, which it did in Tennessee.
"From there we knew we could hit Nashville, Birmingham, Atlanta and Louisville," he said. "Now we're working our way north."
Chuy's will occupy one of the last outparcels at West Broad Village. At the beginning of the year, there were three remaining. Diamonds Direct is under construction. Chuy's is getting ready to begin construction.
Two sources with close knowledge of the development said Carrabba's is getting ready to sign a lease on the last remaining outparcel. Whittall would not confirm but said he expects to finalize a deal for the parcel Friday.
Whittall said overall retail vacancy at West Broad Village is between 10 and 20 percent.
Whittall and Unicorp are poised to offload West Broad Village at some point this year. BizSense reported in March that the retail portion and apartments were under contract with a large out-of-state REIT. You can read more about that here.
Chuy's spends about $2.5 million per location for construction and training, Hatcher said.
Its website advertises menu items such as "Burritos As Big As Yo' Face" and "Elvis Green Chile Fried Chicken." Speaking of Elvis: Each Chuy's location comes with its very own shrine to the king, according to the website.
Chuy's arrival in the Short Pump market could help fill the hole left by Plaza Guadalajara, a Mexican restaurant up the road that closed in August.