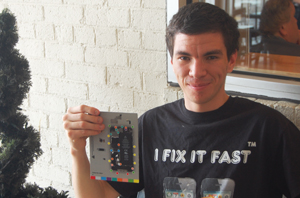 A University of Richmond senior turned a $200 accident into a tech startup he wants to make into a career.
Esteban Hernandez launched I Fix It Fast,  an on-call device repair company, in early August. He came up with the idea after his mother accidentally ran over her iPhone, shattering the screen.
"We found no remedy for that problem," said Hernandez, 23. "We ended up just paying the $200 deductible to get a new phone."
But Hernandez wasn't happy about it. He started shopping online for replacement screens and decided he could offer customers a cheaper, faster way to fix broken smart phones.
He got the company off the ground with a $6,000 investment from his mother, Helena Botero. Hernandez, who said he's always been tech-savvy, used the money to buy a set of custom tools and some basic replacement parts. He also developed a step-by-step method to repair everything from a flattened screen to a dead battery.
I Fix It Fast doesn't have a storefront. Customers place their orders online, and Hernandez meets them at their office or another public place. He said he guarantees the phones will be as good as new the same day.
"I want it to be a seamless experience for my customers," Hernandez said.
Hernandez said he averages about five iPhone repairs a week. He's done as many as three in one day, spending about half an hour per device. A screen replacement costs about $110, which Hernandez said is between $20 and $30 cheaper than any other service he's found.
Hernandez can repair iPods, iPads and iPhones, but he said he wants to get into the Android market once he has more time to focus on the business. He spread the word about I Fix It Fast by leaving business cards in AT&T and Verizon stores, giving customers an alternative to replacing broken phones.
"There's 400 million smart phone users worldwide," Hernandez said. "That's a huge market to break into."
Right now, Hernandez is the only I Fix It Fast technician, but he has plans to expand. He said he would focus on the company full-time after he graduates with a finance degree in May.
"When I started school, I wanted to take the private equity, financial analyst route," Hernandez said. "But I've been enjoying this so much, I want to see how far I can take it."